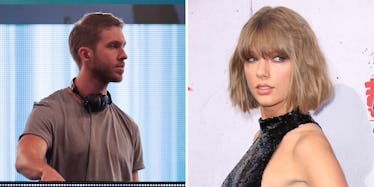 Calvin Harris Speaks Out For First Time About His Breakup With Taylor Swift
REX/Shutterstock
It looks like there is no "BAD BLOOD" between Calvin and Taylor. (HELL YEAH! THAT'S HOW YOU DO A PUN, SON!!! #EITANLEVINE2016!!!!)
Last night, love died. It was shot dead in an alley in front of its wife and son. The cops and paramedics tried to resuscitate it, but it was DOA when it got to the hospital.
RIP, love. RIP.
In the span of a few hours, we were expected to just accept Taylor Swift and Calvin Harris were no longer together before being told Gigi Hadid and Zayn called it quits. That's too much breakup for one night.
Each breakup requires at least two weeks of emotional recovery, meaning we were forced to absorb 336 hours of life-questioning in the span of 22 hours. That is a Herculean task, and I think we all deserve a little pat on the back for making it through this time.
We're now starting to see the social media fallout from the splits, and although Zigi has yet to make a statement, Scottish DJ and scruff Michael Phelps lookalike Calvin Harris already tweeted about the split.
The split was seemingly pretty amicable as Taylor Swift actually retweeted Harris' micro-statement.
It's way too effing early in the morning for this emotional roller coaster. I'm going back to sleep until August.
Citations: Calvin Harris Breaks His Silence On Breakup With Taylor Swift (Refinery29)