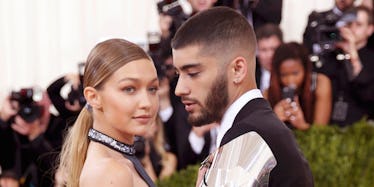 Gigi Hadid And Zayn Malik Reportedly Broke Up, So Love Is Actually Dead
REUTERS
OMG, WTF IS GOING ON?
It was reported this morning that Taylor Swift and Calvin Harris ended things after 15 months of dating, and the world was left devastated. I literally have tears in my eyes just thinking about what went down.
If that made you upset, just wait. There's more.
It's been reported that model Gigi Hadid and former One Direction singer Zayn Malik may have ended things after seven months of dating.
YES, EVERYONE. LOVE IS OFFICIALLY DEAD. THERE'S NO HOPE FOR ANY OF US.
According to E! News, the reason the couple called things off isn't clear, but a source confirmed that Gigi and Zayn were going through "some rough patches."
The source explained there had been some arguments happening between the two around Gigi's birthday.
But don't cry yet...there may be hope!
Another insider told E! News that there's a chance Gigi and Zayn will get back together. The second source shared,
Zayn and Gigi did break up, but they can likely get back together tomorrow. It's all very unclear what's going on between them now. They been having some issues lately that involved communication and getting along. Gigi is really sad about this, though, and in a way would like to work it out. It's more about that constant contact with Zayn that she misses and they did get very close.
I mean, Gigi did Instagram this photo with Zayn just a week ago. What could it all mean?
In the end, I don't care what any source says. This news still breaks my heart.
Hopefully, Gigi and Zayn can work things out because they're my fav couple to stalk on Insta. I need their love in my life or I probably won't survive.
Citations: Gigi Hadid Zayn Malik Break Up (E Online)