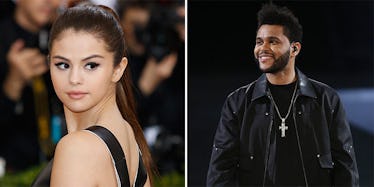 Selena Gomez And The Weeknd Were Caught Making Out And There Are Pics
REUTERS/REX/Shutterstock
HOLY CRAP I LITERALLY CANNOT BREATHE. SOMEBODY CATCH ME BECAUSE I'M ABOUT TO PASS OUT.
Selena Gomez and The Weeknd were caught making out, and there are photos.
I REPEAT: SELENA GOMEZ AND THE WEEKND MADE OUT!
If you're looking for some crazy hot gossip to get you through the week, then have no fear -- this is it.
On Tuesday night, Selena Gomez and The Weeknd were spotted kissing outside Giorgio Baldi in Santa Monica, TMZ reports.
In the pictures below, you can see the 24-year-old singer with her arms around her new "Starboy."
IS THIS REAL LIFE OR AM I DREAMING?
I guess Selena Gomez couldn't keep her "hands to herself," if you know what I'm saying. Haha, get it? Like her song?
Tough crowd.
As TMZ points out, there could be some drama because Selena Gomez is good friends with Gigi Hadid, who is Bella Hadid's sister.
The Weeknd and Bella only broke up a couple of months ago, so the wounds are definitely still fresh.
They also had an awkward encounter at the Victoria's Secret Fashion Show, so they've crossed paths a couple of times since the split.
No offense to Bella, but I'm kind of really feeling Selena and The Weeknd. He seems like such a nice guy, ya know? And she's just so dang cute!
Look at that face!
Maybe Bella should move on to Justin Bieber to make things even? Just a suggestion!
Neither Selena nor The Weeknd have commented on their new relationship status, but the photos don't lie. PEOPLE, THIS IS REAL!
What do you all think their couple name should be? The Selena? Selweek? The Selend?
I love them all!
Hopefully the two make new music about their love for each other. Do I see a collab in their future?
A girl can dream, OK. Let me live.
Citations: Selena Gomez and The Weeknd Making Out (TMZ)