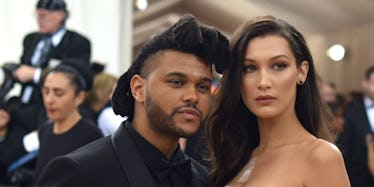 The Weeknd And Bella Hadid Apparently Broke Up, So Love Is Actually Dead
REX/Shutterstock
As if 2016 couldn't possibly get any worse, Bella Hadid and The Weeknd have apparently broken up.
Again.
The couple previously broke up in December, but it seemed like they were making it work out after they reunited.
While we don't know why the couple split, we do know that the now-exes will awkwardly be seeing each other soon.
It's expected that the Grammy winner will perform at this year's Victoria's Secret Fashion Show later this month in Paris. Hadid is also expected to be on the runway.
Listen, Bella, if you don't feel comfortable seeing your ex so soon, then I will bite the bullet, wear the wings and walk the runway for you.
Just call me. I got you, girl. No one will tell the difference since we're basically twinsies.
Like is this Bella or me? There's no way to tell, really.
There were rumors that the two were a couple way back in May of 2015, which was a simpler, purer time.
They made their first appearance as a couple on the red carpet at the 2016 Grammy Awards, where The Weeknd won.
The model told Glamour magazine in September how she and The Weeknd made their relationship work. She said,
I'm dating Abel. I don't see him as The Weeknd. I'm proud of The Weeknd and the music he makes, but I really love Abel.
She went on to talk about his Grammy,
It was a big night for him. He has worked so hard, and he did so well that night. As a girlfriend I wanted to be there to support him. Seeing him so happy when he won a Grammy made me so happy.
A source told People,
Their schedules have been too hard to coordinate and he is focusing on finishing and promoting his album. They still have a great deal of love for one another and will remain friends.
"Schedules" continue to ruin Hollywood relationships... SMH.
Citations: Bella Hadid and The Weeknd Break Up (E Online)