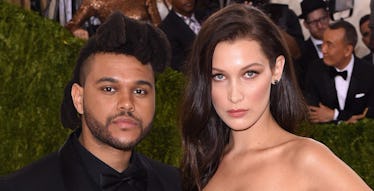 The Weeknd To Perform At VS Fashion Show, Cue Couple Goals With GF Bella Hadid
REX/Shutterstock
The Weeknd better pack his bags because he's headed to Paris!
The "Starboy" singer will officially be performing at the Victoria's Secret Fashion Show for the second year in a row.
Last year, The Weeknd killed it with an epic performance of "Can't Feel My Face," so I'm definitely excited to see what he brings to the stage this time around.
The show will take place in France for the first time this year, and Bruno Mars and Lady Gaga are also confirmed to perform. Yup, get ready because this show will be bigger and better than ever before.
ON TOP OF THAT (yes, there's more), the Weeknd's girlfriend, Bella Hadid, will be walking in the show for the first time.
Yup, lil baby angel face earned her wings and will be strutting her stuff along with big sis Gigi Hadid and Kendall Jenner.
The ladies will spend a week in Paris at the end of November to shoot the show, and it'll air on CBS on December 5.
MARK THAT CALENDAR, YO.
The Weeknd won't be the first singer to perform while his Victoria's Secret girlfriend walks the runway. Back in 2011, Adam Levine performed "Moves Like Jagger" while his wife, Behati Prinsloo, walked.
The couple shared an adorable kiss on stage and it was probably the highlight of the show.
DO YOU SEE THE WAY HE RUNS TO HER? MY HEART, IT'S MELTING.
I don't know what I want more, a body like Behati's or a man like Adam.
ANYWAY, there's a solid chance the Weeknd and Bella Hadid could recreate a similar moment on stage, so cue couple goals.
If Abel runs up to his girl and smooches her in front of everyone, I will die.
I haven't witnessed too much PDA between the two, (on Instagram, lol, I don't know them personally...) so I'm looking forward to seeing what goes down on December 5.
Now, I'll leave you with another performance by The Weeknd to get you extra pumped.
THESE GIRLS ARE SO HOT. BRB, NEVER EATING AGAIN.
Citations: The Weeknd Performing Victoria's Secret Fashion Show (Entertainment Weekly), Bruno Mars Victoria's Secret Fashion Show (Entertainment Tonight)