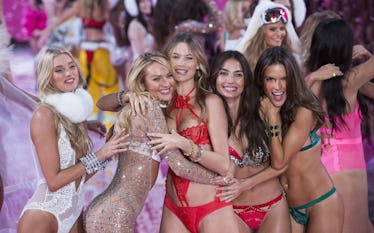 Here's How Victoria's Secret Models Stay Fit While They're Pregnant
Reuters/Lucas Jackson
While I'm pretty comfortable and happy with my body, whenever I stumble upon a photo of a Victoria's Secret model, I have a lot of questions.
Like, what's it like to win the genetic lottery? How do they walk so flawlessly in heels? What do they eat? Do they drink beer? What kinds of workouts are they doing? And if they're doing pilates instead of barre, let me know ASAP so I can do the same.
And whenever one of them gets pregnant, I always wonder how she looks so damn cute and fit, baby bump and all.
Now that Chrissy Teigen has had her baby and Candice Swanepoel and Behati Prinsloo have little ones on the way, I decided to consult celebrity trainer Leandro Carvalho, who worked with model Alessandra Ambrosio during her pregnancy.
Here's what you should know if you would like to look like a Victoria's Secret model when you're pregnant.
Before getting pregnant, models are advised to get to their "desired weight."
If you think these models aren't focusing on their weight before they decide they're ready to pop out a baby, think again.
Actually, they're advised to take action long before it's time to lose the baby weight.
Carvalho tells Elite Daily,
By planning a pregnancy, women are able to start their exercise regimes and clean and healthy eating habits before becoming pregnant. By starting the pregnancy at a desired weight (or even a few pounds lighter) with healthier eating habits and continuing this routine through pregnancy, getting back to that pre-baby body after delivery will be much easier.
Sorry guys, it seems like grabbing a few slices of pizza late at night pretty much always has consequences.
As for exercise, a lot of thought goes into it.
Victoria's Secret models may not be lifting heavy weights or running marathons throughout their pregnancies, but that hardly means they stop exercising.
A ton of thought goes into their work-out routines.
Carvalho explains,
The first four to six weeks of training consist of pure cardio involving dance, swimming and cardio sculpt. After six weeks of cardio, the fitness routine should change to interval training: 20 minutes of cardio, followed by muscle work of 16 to 20 reps light weightlifting, then switching back and forth between cardio and weightlifting for the duration of the workout.
All workouts include a variety of routines to really work the body and create fast results.
As the belly starts to grow (around the second trimester), it makes physical activity a little more difficult on land, so expectant mothers should begin water exercises. Water exercises provide great health benefits to both mother and baby.
BRB, Googling pools in my neighborhood.
This shouldn't come as much of a surprise: Vegetables are super important.
According to Carvalho, Ambrosio never had to watch her weight before she had her baby.
In other words, it was very easy for her to look like a model... further proving the universe is unfair. It's fine, Allesandra.
After she had her baby, though, Carvalho had to school Ambrosio on what to eat.
Carvalho told Elite Daily,
All of my advice to her was simply about making smart, healthy choices. For example, making sure she ate all kinds of vegetables (all colors), white protein (like fish, chicken, egg whites and turkey) and a controlled portion of good carbs (such as brown rice, quinoa and whole wheat bread). I also recommended lemon shots and ginger tea to alkalize and cleanse the body, getting rid of inflammation and promoting weight loss. I wouldn't recommend restricting calories because doing so can affect the quality and quantity of milk production, which is critical to the baby's health.
Hey, at least she didn't have to go to bed hungry.
So, how should you work out your post-baby bod?
According to Carvalho, starting small is key.
New moms should start with a leisurely walking routine, and after a doctor's medical clearance [they should] begin water exercises. Working up to light physical activity, new mothers should incorporate light weightlifting and mild cardio (with respect to the limitations of postpartum), eventually reaching their pre-baby fitness routines. Alessandra, for example, had many limitations after undergoing a C-section during childbirth: no jumping, running, sit-ups or squats. This is an instance when water classes are a must!
OK, so these water classes are also important after you have the baby. Noted.
I don't know about you, but I'm keeping a record of all these tips for future use. Watch out, Candice Swanepoel.