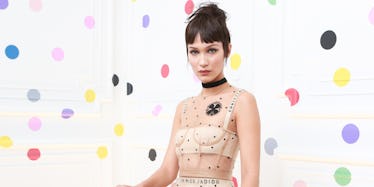 Bella Hadid's Victoria's Secret Audition Proves She'll Slay On The Runway
REX/Shutterstock
I love watching the Victoria's Secret Fashion Show because it reminds me how hot I could look if I stopped eating.
When Kendall Jenner and Gigi Hadid strut their stuff, it makes me think, "Wow, I could have a body like that if I put down this cheeseburger."
It's that simple! I mostly watch to get sexy lingerie inspiration for when I have a boyfriend. Lol.
THAT'S REALLY IT, THOUGH. I def don't watch it for the sake of crying and feeling bad about myself.
Hahahaha, who does that?
Anyway, the Victoria's Secret Fashion Show just gained a new model and (SHOCKER) it's not me.
Bella Hadid will be joining her big sis Gigi on the runway this year, and she couldn't be more excited. WE couldn't be more excited FOR her. GO, BELLA! YOU'RE A STAR! YOU'RE SO HOT! YAY, BELLA!
To top it off, Victoria's Secret released adorable footage of the 20-year-old model auditioning for the show.
In the clip, you can see Bella Hadid walk toward the judges wearing only her underwear. BALLSY. If I did that, I'd get booed off the stage.
In her interview after the audition, Bella gave the low down on how she thought it went. She said,
I kind of feel like I black out when I go in there. I'm just like I'm in my underwear, this is fun...But I'm happy with it, I think. I hope they're happy.
LOOK AT HOW CUTE SHE IS. I WANT TO PINCH THOSE CHEEKS AND SHOVE A DONUT IN HER MOUTH.
Shortly after the audition, Bella found out she was cast as one of the models. GET IT, GIRL! She also celebrated by getting naked. 
That's what I look like in a bra and underwear, too!
This year, The Victoria's Secret Fashion Show will be held in Paris, France and it will air on December 5.
Save the date! You won't want to miss this night.
Citations: Bella Hadid Victoria's Secret Fashion Show (Elle)