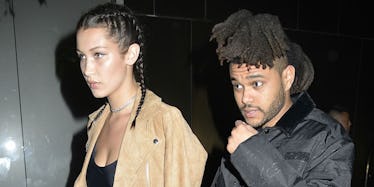 Bella Hadid And The Weeknd Reunited For The First Time Since Their Breakup
REX/Shutterstock
I mean, they were bound to run into each other at some point during this trip, right?
Bella Hadid and recent ex The Weeknd, aka Abél Tesfaye, bumped into each other at dinner at Hôtel Costes in Paris on Monday night, and things went as well as could be expected, considering the pair called it quits earlier this month.
A source told E! News The Weeknd was enjoying a meal with pals, including hot dad Ryan Phillippe, when Bella and her crew came over to say hello.
The source added,
Bella sat next to The Weeknd and spoke for a little while to him. They were really cool with each other… Bella was in a great mood, smiling and seemed really happy while being there.
Could Paris be bringing the former lovers back together? Re-fucking-lax. They, like, just broke up.
Although, the source said,
This is not the end… They know they needed to officially break things off for a while.
Fair enough. Their relationship ended amicably enough for the potential of a second chance to linger.
Following Bella and The Weeknd's split, a source told PEOPLE,
They still have a great deal of love for one another and will remain friends.
Both stars are busy prepping for the November 30 shoot of the Victoria's Secret Fashion Show in the City of Light. Bella will walk the VS runway for the first time, and The Weeknd is booked as a musical guest.
The source reassured fans,
Bella was so excited that she's walking in the Victoria's Secret Show this year, and she knows it may be a bit strange having her ex perform… She will be OK because she'll have all her best friends there.
Skeptics can check out the heat between Bella and The Weeknd when the Victoria's Secret Fashion Show airs December 5 on CBS.
Citations: Inside Bella Hadid and The Weeknd's Surprise Reunion Before the Victoria's Secret Fashion Show in Paris (E! News)