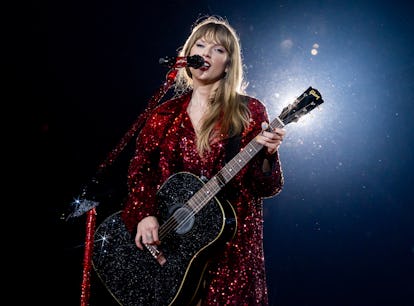 Swifties Are Divided Over Taylor's New Lyrics On "Better Than Revenge"
The track has been marred in controversy for some time.
Terence Rushin/TAS23/Getty Images Entertainment/Getty Images
It's a good day to be a Swiftie. On July 7, Taylor Swift dropped Speak Now (Taylor's Version), a revamped version of her 2010 album. Fans, especially those who've latched onto months-long theories that Speak Now will be re-released, have embraced the record with open arms. However, there's some fans who are a bit hesitant in welcoming the album, especially with its new small changes. Many listeners noticed the singer toned down an offensive line in her track "Better Than Revenge," and they're pretty divided on the switch.
Ever since its release, "Better Than Revenge" has always stirred the pot. In the original version, Swift bitingly sings about a former partner who left her for another woman. Due to the timeline of its release, fans speculated the track was a nod to her ex-boyfriend Joe Jonas and his then new girlfriend, Camilla Belle. That irked theme comes alive in the chorus, where she coos:
"She's not a saint, and she's not what you think / She's an actress, whoa / She's better known for the things that she does / On the mattress, whoa."
This line stuck with listeners, as Belle is an actress. According to Cosmopolitan, the two met on the set of the Jonas Brothers' "Love Bug" music video in 2008. In October of that same year, Joe ended his relationship with Swift (ahem, the infamous 27-second breakup phone call) and he reportedly began dating Belle that same month.
In the latest edition of "Better Than Revenge," the latter lyrics were replaced to:
"He was a moth to the flame / She was holding the matches, whoa."
In the years since the track's release, both fans and music critics have lauded the verse as problematic and not politically correct. Swift later addressed the controversial line in a 2014 interview with The Guardian, seemingly noting she understood where the backlash came from.
"As a teenager, I didn't understand that saying you're a feminist is just saying that you hope women and men will have equal rights and equal opportunities," Swift said at the time. "I was 18 when I wrote that. That's the age you are when you think someone can actually take your boyfriend. Then you grow up and realize no one take someone from you if they don't want to leave."
That nearly nine-year acknowledgement paved way for the new lyrics to shine. However, it seems some Swifties wished that light would dim, and are split on if the track should've been updated.
IYDK, Paramore has revived performing their iconic track "Misery Business," which totes a problematic line similar to Swift's on "Better Than Revenge." However, in recent years, Paramore's lead vocalist Hayley Williams has addressed the controversy and intentionally skips over the line when singing live.
If Swift performs this updated version on her Eras Tour, fans might want to memorize the new lyrics.
While fans appreciate Swift's effort, some believe the new lyrics feels clunky.
Speak Now (Taylor's Version) is out now.