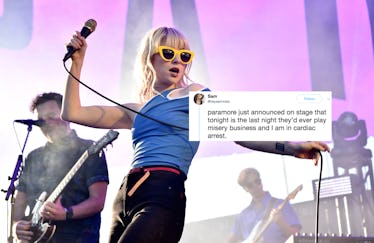 Paramore Cut "Misery Business" From Their Concerts For A Good Reason, But It's Still Sad
Alberto E. Rodriguez/Getty Images Entertainment/Getty Images/Twitter
I'm in the business of misery, and 100 percent of said misery is rooted in the fact that Paramore cut "Misery Business" from their concerts for good. Say it ain't so, Hayley Williams! Just kidding, I'm not that heartbroken over this, and people really shouldn't be surprised. Hayley Williams announced during a performance at the Nashville Municipal Auditorium on Friday, Sept. 7, that Paramore will no longer be performing their classic song "Misery Business" during their concerts for a strictly feminist reason.
"Tonight, we're playing the song for the last time for a really long time," Williams nervously said to the crowd on Sept. 7. "This is a choice that we have made because we feel that we should. We feel like it's time to move away from it for a little while. This is happening. We're gonna play it." Before starting the song for the last time, she said, "This is to every bad decision that led us here. This is to all the embarrassing things we might have said. But we owned up to it, and we grew."
Owning up to past ignorance and growing into more emotionally intelligent people is the exact reason they're no longer performing "Misery Business." The song is a bop and always has been, but it's a problematic bop with a crazy offensive lyric about women in the second verse. Williams sings in the song, "Second chances, they don't ever matter, people never change / Once a whore, you're nothing more, I'm sorry that'll never change." Yikes.
Williams realized long before public outcry over the song started surfacing how offensive the lyric is and has said in numerous interviews over the years that Hayley, as she is now, doesn't identify with the Hayley who originally wrote the song. "'Misery Business' is not a set of lyrics that I relate to as a 26-year-old woman. I haven't related to it in a very long time," Williams said in a Tumblr post in 2015. "Those words were written when I was 17," she continued, "admittedly, from a very narrow-minded perspective. It wasn't really meant to be this big philosophical statement about anything. It was quite literally a page in my diary about a singular moment I experienced as a high schooler."
Fans have mixed feelings about the band's decision. On one hand, the song does no good for women. On the other, it's just so damn catchy (and arguably Paramore's most iconic song).
In an interview with Track 7 celebrating the Riot! album's 10-year anniversary, Williams said she knew the song was anti-feminist, but what upset her the most was that the backlash started after she had already learned this lesson.
"The thing that annoyed me was that I had already done so much soul-searching about it, years before anyone else had decided there was an issue," she said. "When the article began circulating, I sort of had to go and rehash everything in front of everybody. It was important, however, for me to show humility in that moment."
Williams continued,
I was a 17-year-old kid when I wrote the lyrics in question, and if I can somehow exemplify what it means to grow up, get information and become any shade of 'woke', then that's A-OK with me.
Basically, Paramore isn't singing "Misery Business" anymore because they recognize the negative light it paints women in and they're not about it anymore. Music industry, take note, plz and thank you.