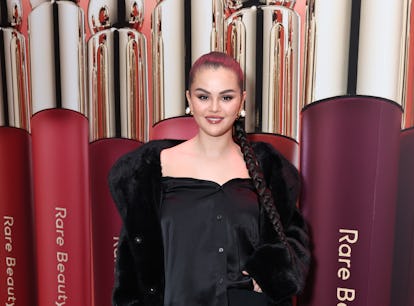 Selena Gomez Finally Cleared Up Those Zayn Dating Rumors In The Funniest Way
Cindy Ord/Getty Images Entertainment/Getty Images
Selena Gomez is making sure there are no doubts about her current relationship status. Despite months of rumors that she may be secretly dating Zayn Malik, Gomez loudly proclaimed she's single in a recent TikTok, effectively putting an end to all the Malik gossip. Here's why Gomez's "I'm single" TikTok was more than just a silly joke for fans who'd been closely following the dating rumors.
Gomez has been trying to keep her love live more private in recent years, after her high-profile relationships with The Weeknd and Justin Bieber throughout the 2010s continue to be a source of public drama. So it was a pretty big deal when she yelled out her current relationship status in a hilariously thirsty TikTok posted on June 8. In the short clip, Gomez is cozied up in a blanket watching a soccer game with her friends. "I'm single!" Gomez shouted at the soccer players, before laying it all out on the table. "I'm just a little high maintenance, but I'll love you so much."
"The struggle man lol," Gomez captured the video, confirming she's still on the hunt for a romantic partner at the moment.
The TikTok comes about two and a half months after Gomez sparked dating rumors with Malik, after the two were reportedly spotted on a romantic dinner date at the end of March. The rumored couple reportedly never reached the exclusive stage, but Malik was hopeful that it might, according to Us Weekly. Now, it sounds like their rumored romance may have just been a brief fling.
It might be for the best, considering the messy web of connections shared between Gomez and Malik. Gomez is longtime friends with Malik's ex Gigi Hadid, not to mention the fact that Hadid's sister Bella also dated The Weeknd right before Gomez became his girlfriend.
Gomez was last linked with The Chainsmokers singer Drew Taggart at the beginning of 2023, but that was also shrouded in secrecy and seemingly short-lived. But now, fans have heard it from straight from Gomez's own mouth: she's officially single, but is ready to leave the sidelines for the right soccer player.