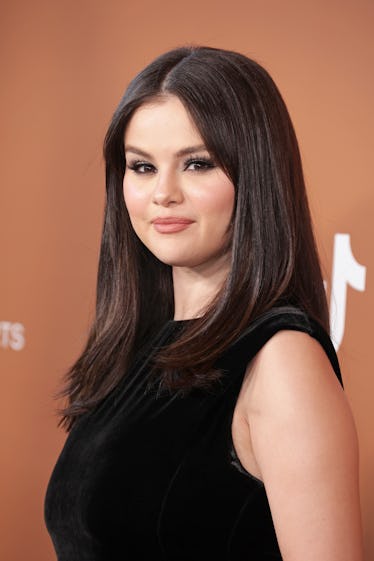 Selena Gomez Seemingly Responds To The Hailey Bieber Drama On TikTok
The singer said she "only wants good for everyone."
Momodu Mansaray/WireImage/Getty Images
February was one hell of a month for Selena Gomez on TikTok. On Feb. 16, the Rare singer used the platform to shut down body-shamers who mocked her appearance at the Golden Globes in January. Then, by the end of the month, she became involved in some internet-fueled drama with Hailey Bieber and Kylie Jenner. The alleged and rather unexpected beef, which seems to be theorized by fans, snowballed into a frenzy that caused Gomez to take a brief break from social media. However, she recently returned online to give her fans some words of wisdom.
On Mar. 5, Gomez posted a makeup tutorial using some of her favorite Rare Beauty products on TikTok. With this post serving as her first taste of activity since leaving the site on Feb. 24, many fans sent her some love in the comments section. In the mist of praise, several users also shared their thoughts on the supposed Hailey-Kylie drama that's still lingering on the TikTok-sphere. It appears the drama took a toll on Gomez, and she hinted at that feeling in a now-deleted comment on her video.
"Thank you and love you all so much. I'm deeply grateful for each and every one of you humans. You make me unbelievably happy," she wrote, according to pop culture Twitter account Pop Base. "Please, please be kinder and consider others mental health. My heart has been heavy and I only want good for everyone. All my love."
For those who've been following the fiasco, seeing Gomez seemingly addressing it in a beauty video might feel like deja-vu. IYDK, on Feb. 21, Gomez revealed she messed up lamenting her brows in a TikTok video. That same day, fans thought Jenner was throwing shade at the singer by posting a close-up of her eyebrows on her Instagram Stories, writing: "this was an accident?????" Shortly after, she included a shot of her and Bieber's brows while on FaceTime in a following story.
It's still not clear what Jenner and Bieber were alluding to in the post, albeit it was very random. A day after the alleged shade, fans began theorizing the duo were making fun of Gomez. However, Jenner shut down the controversy in the comments section of that viral video.
"This is reaching," Jenner wrote. "No shade towards selena ever and i didn't see her eyebrow posts! u guys are making something out of nothing. this is silly." Gomez then reiterated Jenner's comment in her own reply, noting the shady theory was "unnecessary" and that she's "a fan of Kylie."
Even with their shared statements, the alleged drama grew like wildfire and spurred into a Team Hailey versus Team Selena battle across social media. According to Elle, both Jenner and Bieber reportedly lost between half a million to one million followers on Instagram respectively. Meanwhile, Gomez's already hefty followers list on Instagram grew and she's now the most-followed woman on the platform.
This all comes four months after Bieber and Gomez posed together at the Academy Museum Gala in Los Angeles. At the time, claims the duo had behind-the-scenes drama resurfaced, as Bieber addressed the rumors she allegedly caused Justin and Gomez to split on the Call Her Daddy podcast in September 2022.
So far, neither Bieber or Jenner have further commented on the drama or Gomez's recent TikTok. However, with that video, the Rare Beauty founder is making one thing clear: She's ready to move on.