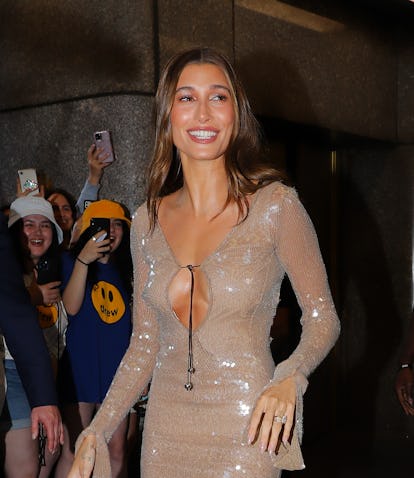 Hailey Addressed Claims That She Broke Up Justin & Selena
"If we moved on, why can't you?"
MEGA/GC Images/Getty Images
Hailey Bieber is finally speaking up on the infamous Jelena breakup — and the people that accuse her of sparking it. During a Sept. 28 episode of Call Her Daddy, host Alex Cooper asked Hailey about Justin Bieber and Selena Gomez's split, specifically questioning the rumors that Hailey was somehow involved in it. So, um, did Hailey break up Justin and Selena? During their conversations, she cleared up all the rumors.
"Your husband was in a very public relationship. People were obsessed with [Justin and Selena] being together," Alex noted, before asking, "Were you ever with Justin romantically at the same time as her?" (Mic drop.) Hailey took the question in stride. "I can say, period, point blank, I was never with him when he was in a relationship with anybody — that's the end of it," she explained.
"When him and I ever started, like, hooking up or like anything of that sort, he was not ever in a relationship. Ever. At any point," she said. "It's not my character to mess with someone's relationship. I would just never do that."
According to Hailey, Justin completely "closed a chapter" with Selena before they got engaged, praising her husband for the "mature, healthy decision." She told Alex, "I think it was the best thing that could've happened for him to move on and be engaged and get married and, like, move on with his life in that way. I know what was going on when we got back together and know what had to happen for that to come back together in a healthy way."
According to Hailey, she had no lingering doubts about Jelena by the time she and Justin got back together. "I would never want to get into a relationship and get engaged and be married to them and think in the back of my mind, 'I wonder if that was really, like, closed for you,'" she said. "I know for a fact that we were able to get back together because it was very much completely closed."
During the episode, Hailey also addressed those who are still rooting for Jelena. "They wish he ended up with someone else and that's fine. You can wish that all you want, but that's just not the case." Oof. "If we moved on, why can't you?" she added.
If you haven't been keeping up with the Jelena fans on TikTok, the couple called it quits for the second and final time back in March 2018. In September 2018, Justin and Hailey married — but somehow that didn't stop the drama.
In the years since the Biebers' wedding, fans have brought up Selena again and again. In September 2021, they chanted "Selena" while Justin and Hailey walked the Met Gala red carpet. In December 2020, one fan encouraged people to bombard Hailey and Justin's Instagram Live with pro-Selena comments. Per E!, Justin called out the behavior at the time, explaining, "It is extremely hard to choose the high road when I see people like this try and rally to gather people to bully the person I love most in the world. It is not right." Fair!
Here's hoping this interview helps clear the air for good.
This article was originally published on