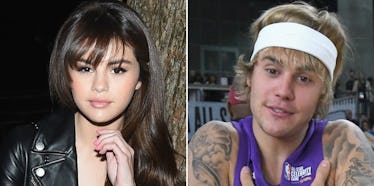 These Clues Selena Gomez & Justin Bieber Broke Up For Good Are So Confusing
Jamie McCarthy/Jayne Kamin-Oncea/Getty Images
Jelena might be done for good... again. The couple has only been back together for a short few months, but reports about the pair are making this "break" look more like a breakup. There are a handful of clues Selena Gomez and Justin Bieber broke up for good, and they honestly make it seem like this temporary break was a cover for the fact that the pair actually ended things. Elite Daily reached out to both Gomez and Bieber's teams for confirmation on their breakup but did not hear back by the time of publication. It wouldn't be the most outlandish theory in the world to suggest that the news of Gomez and Bieber "taking some time apart" was a cover for the fact that they called it quits and wanted time to themselves before the inevitable media frenzy started.
While their relationship status still remains unconfirmed by Gomez and Bieber themselves, it's really starting to look like they're through. For weeks now, the internet has been operating under the knowledge that Selena Gomez and Justin Bieber are taking time apart, as reported by E! Online back on March 7. At first, this seemed like a healthy break. It's good for couples who spend a lot of time together to balance time shared with time apart. Getting into a routine of spending every day together can put a couple in a rut quickly. Gomez hit the ground running with her alone time by spending time with her family and going on a vacation to Australia with her friends. Bieber stayed in California, but during this so-called "break" has been seen out with other women.
A source recently told E! News that things aren't looking good for Jelena. They said, "Selena realized even though he's made some positive improvements, they just aren't a perfect match right now."
So what you're saying is, Jelena is over...?
One source told Entertainment Tonight that Bieber has been spending time with other women because he knows it will be made public and he reportedly wants Gomez to see (because that move always works...). The source said Bieber "knows everything he's doing is going to get out."
They continued,
[Selena is] off having fun with her friends and so he's showing that he can still go out and have fun too. And to be honest, I'm sure there's a part of him that wants to make Selena a bit jealous!
Gomez seems to be unbothered by Bieber's reported attempts to make her jealous.
She posted a video from her Australian vacation that was all about body positivity to Instagram on March 20.
Her caption read,
The beauty myth- an obsession with physical perfection that traps modern women in an endless cycle of hopelessness, self consciousness, and self-hatred as she tries to fulfill society's impossible definition of flawless beauty. I chose to take care of myself because I want to, not to prove anything to anyone. Wind in her sails.
Looks to me like homegirl is doing a lot of thinking about life — Justin Bieber just might not be part of those thoughts. It honestly looks like she's in that newly single woman mode, where everything you post gives off that "new me" vibe.
Look at this picture Gomez posted to her Instagram on March 24 and tell me she doesn't have the look of a woman who's enjoying life.
She was also recently seen wearing a T-shirt that said "Never underestimate the power of a woman" while out with friends, and if all of these things aren't signs of someone trying to show they're thriving after a breakup, I don't know what are.
Bieber was recently seen out with a woman named Baskin Champion. (I really, really need to know if Baskin is part of the family that owns Baskin Robbins because if not, why is that her name?)
Champion is reportedly the woman seen with Bieber in the video above. According to Entertainment Tonight, the two reportedly attended a Craig David concert together on March 20. Other concertgoers were able to snag some videos of the two at the concert together. It raised peoples' eyebrows because as far as the internet knew, Bieber and Gomez were still together. But sources still claim that Bieber and Champion are just friends.
A source confirmed to E! News that Bieber and Champion have been hanging out, but it has remained platonic. "Justin has been hanging out with Baskin," the source said, adding that the two hung out at Bieber's house after the Craig David concert on March 20. "Justin had friends with him but they all left and Justin and Baskin were alone together for the night," the source said.
Bieber reportedly isn't taking this break with Gomez very well. The source revealed, "Justin has been upset about the recent break from Selena and is trying to keep busy until they work things out." They continued,
It wasn't his choice for them to split, and he is really taking time to focus on himself right now. He has been working out every day, focusing on church and being out and about with his friends.
Uh... I hate to be the one to say it, guys, but just like One Direction and Fifth Harmony, I really doubt Selena Gomez and Justin Bieber's "break" is ever going to end.