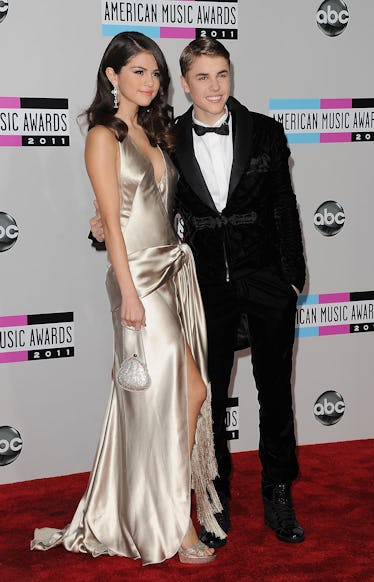 Here's The Reason Selena Gomez & Justin Bieber Are Reportedly Going Separate Ways
Jason Merritt/Getty Images Entertainment/Getty Images
I know, I know. Thinking about Jelena no longer being a thing is enough to induce anxiety in anyone, but we have a lot to talk about. What seemed on the surface to look like just a break now looks like a legitimate breakup, and I just don't know how to feel. The thing that gives me more to worry about is that Justin Bieber has a new lady friend, Baskin Champion, and it looks like they may be more than just friends, if you know what I mean. So, are Justin Bieber and Baskin Champion dating? What's really going on with Justin and Selena? Will anyone ever tell us what's going on?
Probs not, but at least we know a few details, and the rest we can speculate.
Here's what we know. According to E!, it looks like Bieber's friend Baskin Champion is just that — a friend. "Justin has been upset about the recent break from Selena and is trying to keep busy until they work things out ... Justin was introduced to Baskin through his friend group and they have only hung out a few times. He has definitely been liking her company, but to say they are dating is a huge stretch," a source said, adding that "Justin isn't trying to be serious with anyone but Selena."
Phew!
A source told People that Justin "thinks and talks about Selena all the time. The chapter with her is definitely not finished."
Things were looking pretty dicey on March 20 when Bieber was spotted at a Craig David concert and, according to reports, he spent most of his time in the VIP section with an unidentified woman (who is reportedly Baskin Champion). Where was Selena? Should we be worried?
A source told E! News, "Justin has been hanging out with Baskin," adding that the pair went back to Justin's house after the concert. "Justin had friends with him but they all left and Justin and Baskin were alone together for the night," the source added, and OK, now I'm officially nervous.
But look, reports said that he doesn't want anything from Champion, so we can all breathe easy, right?
Welllll. Maybe not.
Why is everything so complicated?
While it seems that Bieber only has eyes for Selena, she might want to take some time to be by herself. A source told E! News that "Selena realized even though he's made some positive improvements, they just aren't a perfect match right now."
This is a damn saga, y'all, and at this point, even I can barely keep up.
I'd love to go back to a time when Jelena never failed us, and their love overcame everything. But even in the past, the couple have been on-again, off-again, despite how much they clearly have deep feelings for each other.
Back in 2015, Bieber opened up to Complex and reflected on just how important his relationship was with Gomez. He said,
We were so in love. Nothing else mattered. We were all about each other. But when it's like that and you get your value from that, people will always disappoint you. Your girl or your dude, they're always going to disappoint you. Your full identity can't be in that person. My identity was in her. Her identity was in me. When stuff would happen, I would lose my freakin' mind, and she would lose her mind, and we would fight so hard because we were so invested in each other. Love is a choice. Love is not a feeling. People have made it seem in movies that it's this fairy tale. That's not what love is. You're not gonna want to love your girl sometimes but you're gonna choose to love her.
Sigh. It looks like the Jelena saga continues. So let's buckle up, because we might be in for a bumpy ride.