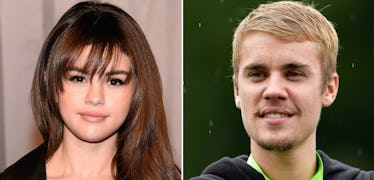 Selena Gomez Is Reportedly Taking A Fame Break & It May Have To Do With Justin Bieber
Jamie McCarthy/Stuart Franklin/Getty Images
Selena Gomez and Justin Bieber are reportedly still together, but they're taking some time apart to work on their personal lives. Entertainment Tonight reports Selena Gomez is taking a fame break in order do this. Elite Daily reached out to Gomez's team for confirmation but did not hear back by the time of publication. The "Fetish" singer is reportedly taking herself out of the spotlight for a bit so she can work on repairing her relationship with her mother, figure out where she wants to go with her career, and just have some time with family away from L.A. According to reports, she's been overwhelmed by her return to fame and needs some time to herself to recuperate. A source told Entertainment Tonight, "Selena is very delicate; her 'comeback' to the spotlight has been tough — especially with the interest in her personal life with Justin and her mother." They continued, "She is taking time to herself. This is not the first time she has done this."
The source added that one of Gomez's goals with this break is to improve her relationship with her mother, which has reportedly been strained over the last few months. "She wants to repair her relationship with her mother, that's a priority for her, too," they said, adding that fame might not even be something she wants for her life anymore. "She needs to figure out how to live the life she wants in the spotlight — if that's even possible," they said.
A source told E! News the pair had been having a bunch of little fights that led to one huge fight, which led them to their decision to spend some time apart. "They were having a lot of little disagreements recently," the source said, "And one fight in particular blew up and caused them to decide to 'break up.'" They continued, "However, they've been in contact the entire time and their feelings for each other have not changed. They will absolutely get back together and they are not over, but they both need some time away from each other." The source added,
They both have expressed that they have been feeling overwhelmed with a lot of pressure that has come with their public relationship, and haven't been seeing eye to eye on things.
Hey, if I spent all of my time with someone, I'd probably get a little sick of them and it would probably cause fights too, so I get it. Time and space always brings perspective.
When it comes to Gomez's relationship with her mother, Mandy Teefey, there has been some pretty public strain between the two.
Teefey reportedly called out Gomez for working with Woody Allen on the film A Rainy Day In New York. Gomez's fans had apparently been commenting on Teefey's Instagram asking her to comment on her daughter's involvement in the film despite the sexual assault allegations against Allen. Teefey reportedly responded to fans' comments in her own comment that read,
Sorry, no one can make Selena do anything she doesn't want to. I had a long talk with her about not working with him and it didn't click. Her team are amazing people. There is no fall person here. No one controls her. She makes all her own decisions. No matter how hard you try to advise. It falls on deaf ears.
Yikes. This comment led fans to believe Teefey and Gomez's relationship was on the rocks. It also doesn't help that Teefey openly disapproves of Gomez getting back together with Justin Bieber. She told Gossip Cop back in January that she's "not happy" about them rekindling their romance, but knows her daughter's choices are her own. "She is 25 years old and knows what is at stake with her health," Teefey said. "Selena is an adult and can make her own choices. Selena can live her life however she wants as long as she is happy, safe and healthy." Hopefully Teefey will see Gomez's current break from the spotlight and her relationship as a vote of confidence that she's committed to making healthy choices for herself.