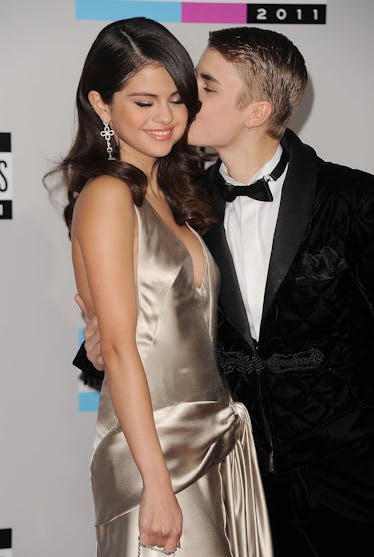 Selena Gomez & Justin Bieber Might Be On The Rocks & I Can't Handle This
Jason Merritt/Getty Images Entertainment/Getty Images
Well it's official everyone, love is a lie. While we were all so excited that Jelena had rekindled their relationship, it looks like things may not be as much of a fairytale as we hoped. Selena Gomez and Justin Bieber are reportedly taking "time apart" from each other, and I'm having some trouble accepting it.
Before we all hit total devastation, it's important to note that this doesn't necessarily mean Jelena is over. A source told E! News that though the couple have decided to spend some time solo, they still are in contact daily.
The source said,
They were having a lot of little disagreements recently and one fight in particular blew up and caused them to decide to 'break up,' however, they've been in contact the entire time and their feelings for each other have not changed. They will absolutely get back together and they are not over, but they both need some time away from each other.
Another source told E! News that the pair has been having issues trying to adjust to their public relationship.
The source said,
They both have expressed that they have been feeling overwhelmed with a lot of pressure that has come with their public relationship, and haven't been seeing eye to eye on things.
It wouldn't be a true Selena / Justin romance if there wasn't some bumps in the road. Like they say, the course of true love never did run smooth.
Despite posting the most adorable Instagram for Bieber's birthday on March 1, the source also told E! News that Gomez has reportedly not seen him since his birthday.
I don't know. To me, it makes sense that the pair would need some time apart. Since getting back together late last year (despite zero confirmation from either parties), the two have been vacationing to places like Mexico, Jamaica, and Laguna Beach. Plus, photographs of Jelena jetting off to New York surfaced on Feb. 10, just days before Valentine's Day.
But just look at this and tell me this couple isn't endgame.
On top of the stress of such a public relationship, there have been some obstacles facing the couple inside the family as well. In an interview with Gossip Cop, Gomez's mother Mandy Teefey revealed that she's not super pleased with her daughter and Bieber rekindling their relationship.
"She is 25 years old and knows what is at stake with her health," Teefey told Gossip Cop. "Selena is an adult and can make her own choices. Selena can live her life however she wants as long as she is happy, safe and healthy."
It's no secret that Bieber has a lot of making up to do to Gomez and her family. Despite dating on-and-off again for four years from 2011 to 2015, the last few moments of Jelena's relationship wasn't necessarily the most harmonious, mainly due to Bieber's legal battles and "bad boy" phase that he went through around the time the couple called it quits in 2015..
However, Bieber is reportedly determined to win back the favor of Gomez's family. A source spoke to People about Bieber understanding he has a lot of work to do to repair the damage he's done in order to get him back in their good graces.
"Justin is aware Selena's family is not thrilled they are hanging out. They think he caused Selena a lot of grief," a source told People "Justin hopes he can prove to them that he has changed."
I guess we'll just have to wait and see.
No matter the drama, there is some red thread that will always draw this couple back to each other's arms. Take your time apart kids, because we'll be rooting for y'all no matter what.