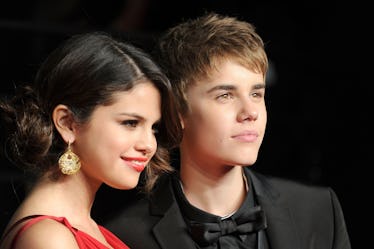 These Pictures Of Selena Gomez & Justin Bieber Are A Huge Clue About Their V-Day Plans
Pascal Le Segretain/Getty Images Entertainment/Getty Images
As Valentine's Day approaches, we're all wondering how exactly our favorite celebrity couples will be celebrating. Well, Jelena is certainly no exception, especially when photos of Selena Gomez & Justin Bieber at the airport surfaced. Since, we're all theorizing where the love birds are heading for the most romantic day of the year.
On Feb. 10, photos surfaced of Gomez and Bieber heading to the Los Angeles Airport (LAX), where the repoted couple was spotted riding in a black SUV. While it's unsure where the two stars will be heading, it's likely the destination will be New York City. Gomez is expected to attend Coach's New York Fashion Week on Feb. 13, so fans might be expecting some big city romance coming our way in the next few days.
The reported couple hasn't been shy about covert public appearances since they reunited a year ago. On Feb. 8, after attending a Rex Orange County show in Los Angeles, the couple was caught smooching on the sidewalk once the concert ended. According to Hollywood Life, a witness said that the stars couldn't look happier together.
The witness said,
Selena and Justin were backstage after the show talking to Alex, they were both so warm and humble. Justin was doing most of the talking, Selena was more quiet. She was holding Justin's hand and smiling a lot. When they were leaving Justin put his arm around Selena and she had her arm around him, they were practically wrapped around each other, like they couldn't get close enough.
While Jelena's on and off again relationship was a serious headache a few years ago, it's nice to see the pair is handling their reported relationship rekindling a little more maturely.
On Nov. 15, 2017 photos of the Gomez and Bieber kissingall but confirmed that the pair had officially gotten back together, leading to resounding rejoices from fans. (For the record, neither Biebs or Selena have publicly confirmed they're back togeher.) The two are rumored to have reunited shortly after Gomez and former boyfriend The Weeknd ended their relationship in October, and there are dozens of pics to prove it.
Even though Gomez and The Weeknd were cute together, there's no denying that she and Bieber are truly that couple.
Since, the couple has tried to spend as much time together as possible. According to People and E! News, Bieber and Gomez rang in 2018 together during a romantic getaway to Cabo.
So, a lover's retreat in NYC to celebrate Valentine's Day might not be too crazy of a theory.
However, the course of true love never did run smooth. It wouldn't be a true Justin-Selena romance if there wasn't some element of drama involved. An interview with Gossip Cop revealed that Selena Gomez's mom, Mandy Teefey, isn't pleased about her daughter's relationship with pop music's favorite bad boy. In fact, the whole family is a little iffy about whether Bieber has matured enough to make up for the heartache he reportedly put Gomez through.
The insider close to Bieber also went into detail to People about the couple's relationship, specifically that Bieber is well aware of all the making up he has to do in order to win back the trust of Gomez and her family.
Is it too late now to say sorry?
The source said,
Justin still needs to win her family over and he realizes it will take some time. But he very much feels he is a different person. He knows what he did wrong in the past and understands that Selena deserves better. He wants to be with her and will do anything to prove he can be a great boyfriend.
While there may be some tension facing the pair, fans are definitely living for the Jelena cuteness.
No matter where Bieber and Gomez are heading, it's sure to be fabulous. Perhaps this holiday will be spent chilling by the fire while eating fondue?