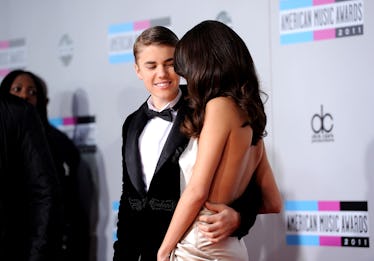 This Photo Of Selena Gomez & Justin Bieber Kissing Confirms The Two Are Back Together
Jason Merritt/TERM/Getty Images Entertainment/Getty Images
WELL IT'S FREAKING OFFICIAL, FOLKS. A photo of Selena Gomez and Justin Bieber kissing confirms the two are definitely back together. It's all so much to take in, I don't even know how I feel yet. It's been an absolute whirlwind keeping track of Gomez's romantic life ever since news broke in October that she was splitting up with The Weeknd. Now, it looks like Bieber is back and he's here to stay, so everyone buckle the freak up.
Bieber and Gomez started hanging out immediately following Gomez and The Weeknd's breakup in October. Photos of the two hanging out at breakfast, attending church, and even chilling at Gomez's home hit the media so furiously, it was almost as if they didn't give one little F what we all thought.
Now, it's official. They clearly don't give one little F. They just have eyes for each other. The public and our opinions can take a damn hike.
The kiss reportedly occurred Wednesday night, Nov. 15, at one of Bieber's hockey games. This is reportedly the second game Gomez has attended in the past few weeks, but it's the first time we caught her giving Bieber a good luck smooch.
Take a good look. Take it all in.
Overwhelming, right? Just a crazy little blast from the past, no?
Someone else caught footage of Gomez walking around the hockey rink with a new pup (reportedly named Charlie) who was also there to cheer Bieber on. While Gomez was leaving, paparazzi were going crazy and snapping pictures of the star and her pup getting into her car. You can hear Gomez politely tell the paps, "Guys, please. It's late."
Charlie looked like he agreed.
While it's no secret Bieber has been courting Gomez for some time, a friend of his told Elle magazine he knows he has a long way to go to make up for the past. The source said,
Justin is aware Selena's family is not thrilled they are hanging out. They think he caused Selena a lot of grief. Justin hopes he can prove to them that he has changed.
Well, looks like so far, so good, Biebs.
According to an insider who spoke with Us Weekly, Gomez is calling the shots and Bieber is just following her lead. They said,
The ball is in Selena's court right now. She was happy with The Weeknd but Justin always has the biggest piece of her heart. This situation is a heartstring type of thing. She has to figure out what she wants.
A second insider added,
... She [Selena] can't deny that she still loves Justin. He had such a big piece of her heart and was such a huge part of her life for so long. She can't just let him go.
Hm... obviously.
It's just slightly over a month since Gomez's ten-month relationship with The Weeknd ended, and it suddenly feels like that whole thing didn't even happen. While it's been a total of three years since Gomez and Bieber called things off for good, it feels like just yesterday we were screaming our heads off about how adorable they were.
Plus, don't feel sorry for The Weeknd. In the spirit of reuniting with exes, he was not so coincidently photographed stepping out of Bella Hadid's New York City apartment. Hadid and The Weeknd broke up almost exactly a year ago this month.
I don't know what the hell is going on, but I know I'm invested. Congratulations, Selena and Justin! I think?
Check out the entire Gen Why series and other videos on Facebook and the Bustle app across Apple TV, Roku, and Amazon Fire TV.