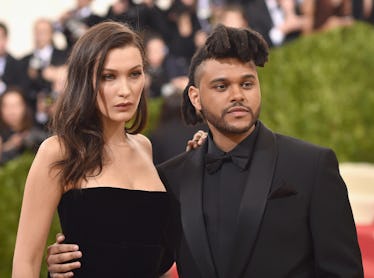 The Weeknd & Bella Hadid Might Be Dating Again Following Selena Gomez Split
Dimitrios Kambouris/Getty Images Entertainment/Getty Images
NOBODY FREAK OUT, BUT THERE IS A LOT HAPPENING IN THE CELEBRITY WORLD. A new, mysterious photo has everyone asking are The Weeknd and Bella Hadid back together? Honestly? Maybe. I know you're probably feeling emotionally fragile after The Weeknd's breakup with Selena Gomez, and also probably inventing this whole story about Bella Hadid moving on to create an island run by female warriors much like in the movie Wonder Woman, but you can forget about all of that now.
A picture of The Weeknd walking out of Hadid's New York City apartment Tuesday night, Nov. 14, looks suspiciously like an old flame might be rekindling. In the photo shared by Elle, The Weeknd is clearly rushing to his car and purposefully keeping his head down low, likely hoping he won't be seen.
According to the magazine, he spent "several hours" there, which to me can only mean one thing: they either decided to embark on a Harry Potter movie marathon and spend the night making snitch sugar cookies, or they spent a lot of time talking out what went wrong, catching up on their lives today, and discussing if they do or do not want to get back together.
That's it. It can only be one of those two things. I can't handle any other options.
It would be understandable if The Weeknd wanted to gage his status with Hadid, particularly after his ex Selena Gomez ran straight into Justin Bieber's arms.
Immediately following her breakup with The Weeknd (aka Abel Tesfaye), Gomez and Bieber were photographed hanging out at home and going to church together. They were also seen getting breakfast in broad daylight. Obviously, this sparked rumors that the two were getting back together, so now it seems a little more than coincidental that The Weeknd is reconnecting with Hadid.
After dating for just more than one year, Hadid and The Weeknd initially called things off in November 2016. If you guys remember, it was very specific timing (to say the least), as they ran into one another shortly after on the runway at the Victoria's Secret Fashion Show. At the time, Hadid striding past The Weeknd in luxurious lingerie while he serenaded her seemed downright poetic, and fans couldn't handle it.
Around that time, Hadid made the following comment to Teen Vogue,
When I love somebody, I love them with my whole heart. It was my first breakup—or second, next to the horse—and so public... As an outsider, you might think I handled it so well, but it's always in your heart, and you always feel it very heavily.
Now, here we are, almost exactly a year later, and The Weeknd is caught sneaking out of her door. Hm, hm, hm.
Meanwhile, The Weeknd and Justin Bieber are both nominated for American Music Awards this Sunday, Nov. 19, and Selena Gomez is scheduled to perform her new song "Wolves." While we all can't wait to see what she does on stage, we're also not-so-secretly crossing our fingers that the cameras will pan back and forth between The Weeknd and Bieber's faces.
What drama! What intrigue! What tension!
If The Weeknd and Bella Hadid really are getting back together, maybe they'll let us know by making a red carpet appearance together. Samesies for the Biebs and Gomez.
Really, all us fans want is to know is that our favorite celebrities are happy and to be let in on every little personal detail in real time. Is that so much to ask?
Check out the entire Gen Why series and other videos on Facebook and the Bustle app across Apple TV, Roku, and Amazon Fire TV.