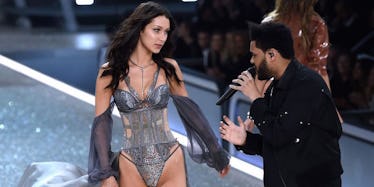 The Weeknd Serenaded Bella Hadid At The VS Fashion Show And Fans Can't Cope
REX/Shutterstock
As if my emotions weren't already all out of sorts after power couple Bella Hadid and The Weeknd broke up earlier this month, the two shared a v. special moment at the Victoria's Secret Fashion Show on stage for the whole world to see.
Before this romantic scenario played out, Bella was reportedly caught in the ACT on one of the Victoria's Secret model's Snapchats doing something super adorable.
THANK THE LAWD FOR SNAPCHAT. How would we keep up with the world without it?!
While the group of elite models was chilling on the private jet on their way to Paris, Bella apparently scrolled through pictures of her and former flame The Weeknd kissing.
*Heart casually falls to the floor and breaks into a million pieces.*
We reported that the duo even reunited in Paris for the very first time since splitting. They ran into one another at Hôtel Costes Monday evening.
And on Wednesday… Bella walked in the Victoria's Secret Fashion Show (she high-key crushed it) while her ex-boyfriend The Weeknd performed on stage.
Things got super cute on the catwalk, that's for sure. UGH, JUST LOOK AT THEM.
Oh the feels @theweeknd @bellahadid #ABella #bellahadid #TheWeeknd #VSFashionShow pic.twitter.com/BaZ4j44giZ — ☇®idd£3z™☇ (@LadieeDS785) November 30, 2016
The Weeknd couldn't keep his eyes off of Bella. She looked like a stunning vision — and a real-life angel.
Seriously, I started to tear up -- this video is so freaking sweet.
The Weeknd and Bella!! pic.twitter.com/H73QGuSUSH — ◟̽◞̽ (@beamazayn) November 30, 2016
He's pretty much serenading her while she's doing her thing on the runway like a boss.
Fans could NOT keep their feelings together when this news blew up on Twitter this afternoon.
For real, these people seriously GET ME RN.
THE WAY SHE MOVES WITH THE SONG AND THE WAY HE WALKS WITH HER #VSFS2016 — bels (@wajtforharry) November 30, 2016
Abel got eyes for Bella only @bellahadid @theweeknd #VSFS2016 pic.twitter.com/nsgxEHQtos — belgie (@queenshadid) November 30, 2016
This epic moment at the VS Fashion Show is definitely one for the books.
Citations: Bella Hadid Slays in Sexy Lingerie While Reuniting With Ex-Boyfriend The Weeknd on Victoria's Secret Runway (Entertainment Tonight)