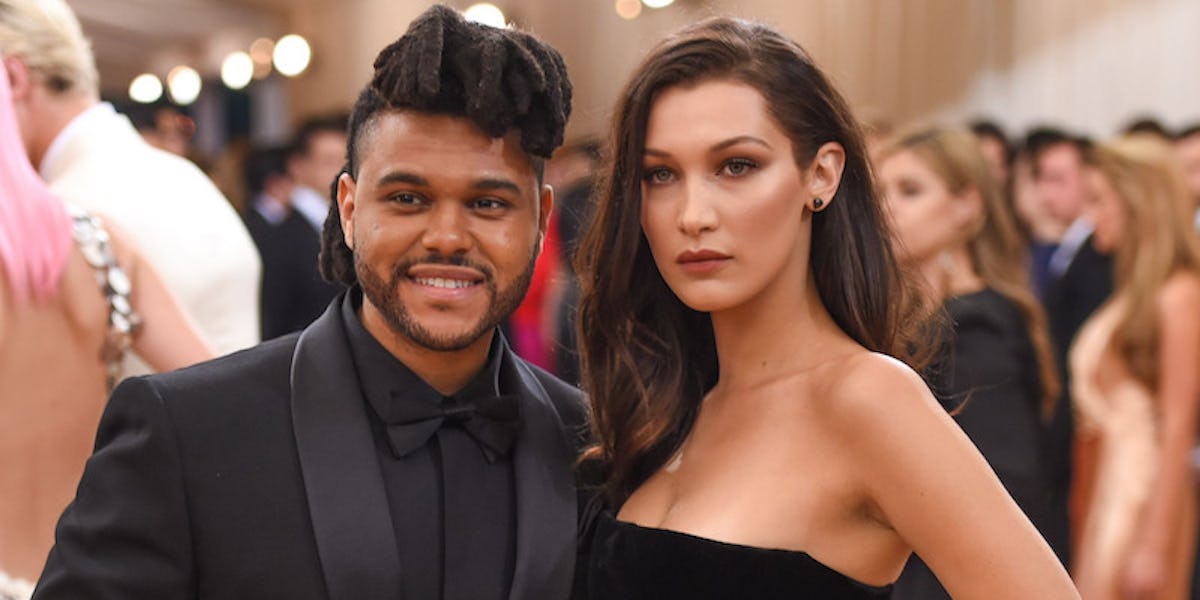 Bella Hadid Caught Looking At A Pic Of Her And The Weeknd In This Snapchat
REX/Shutterstock
Is it safe to say Bella Hadid wants that old thing back? You be the judge.
Despite the fact that The Weeknd and Bella Hadid called it quits on their once perfect relationship earlier this month, it looks a lot like the 20-year-old model still has the "Starboy" singer on her mind.
After being together for about a year and a half, Bella Hadid and The Weeknd, whose real name is Abel Tesfaye, broke up due to their busy work schedules.
That might explain why Bella was reportedly seen scrolling through romantic photos of her and The Weeknd kissing.
A passenger aboard a "secret" airplane used to transport Victoria's Secret models spotted Bella Hadid on the plane looking at an old photo of her kissing her ex.
According to Teen Vogue, a fellow model named Kelly Gale was able to snap a photo of Bella seemingly reminiscing over special times with her ex-boyfriend. The photo was shared on Snapchat before it was eventually posted on Instagram by a fan.
Here's the photo of Bella Hadid getting "caught" looking at a picture of her and ex-boyfriend The Weeknd kissing.
So, is it legit? I mean, who really knows at this point?
You would've had to have been on that plane filled with gorgeous models! As of now, we can only speculate that Bella Hadid was randomly scrolling through her Instagram feed and stumbled upon a photo of her and her ex. It isn't totally impossible.
We can also speculate that the woman in the photo ISN'T Bella at all. It isn't totally impossible. However, Bella, if that is you on that plane looking at old, lovey photos of you and your ex, you're not alone. We've all been there at some point in our lives. There is still hope!
After all, neither Bella nor The Weeknd have commented on their split so it's hard to tell how they really feel about each other these days.
A source close to the stars spoke to People magazine, revealing,
Their schedules have been too hard to coordinate and he is focusing on finishing and promoting his album. They still have a great deal of love for one another and will remain friends.
"Love" is a strong word!
Citations: Bella Hadid Seen Looking at Photos with the Weeknd on Victoria's Secret Plane (Teen Vogue)