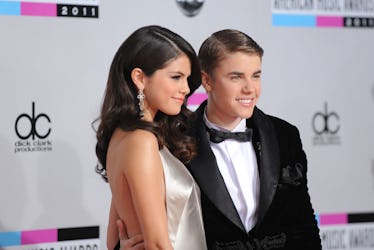 These Photos Of Selena Gomez & Justin Bieber Hanging Out Together Are So, So Strange
Jason Merritt/TERM/Getty Images Entertainment/Getty Images
Apparently it is 2009 again because every rumor mill on earth is churning out stories about Justin Bieber and Selena Gomez. While the two singers being friendly would come as no surprise, as of late the two have been throwing off vibes that there could be something more between them. Recent reports stating that Gomez and The Weeknd broke up mixed with photos of Selena Gomez and Justin Bieber spending literally all day together are raising some eyebrows.
According to TMZ, Gomez and Bieber spent all of Oct. 29 going to church, lunching, and hanging out. SO WEIRD. Elite Daily reached out to Selena Gomez's team and The Weeknd's team, but did not hear back by the time of publication.
While the photos are giving fuel to Jelena shippers, my biggest problem is that the photos are really... strange. TMZ reported that the singers grabbed lunch together at Joi Cafe in Westlake Village, California. The picture from this lunch date strikes me as odd for two reasons.
1. It looks SO staged. I know Biebs and Gomez are used to paparazzi, but the entire photo looks posed, in my opinion. Also, what celebs just allow the papz to take their photo like this? Suspect AF.
2. They are supposedly eating lunch, but are drinking two waters. At least I think those are glass-bottle waters on the table. Maybe their food hasn't come yet, but Bieber has a smoothie. Is this what celebrities eat for lunch these days? I'm honestly confused by this whole outing.
Bieber and Gomez hanging out could mean a million different things. An insider told People that Gomez is not back together with Bieber, but she and The Weeknd (real name, Abel Tesfaye) have indeed called it quits. The source said about the breakup,
She and Abel have been going back and forth for a few months about their relationship. It's been hard with him being on tour and her shooting in New York. That wasn't easy on them ... It's been hard for them to come to the realization that this is the direction things were heading, but it's been hard for months.
The source did mention that Gomez and The Weeknd are "still in touch," and this doesn't mean Gomez is dating Bieber again. Dreams crushed.
The picture above does seem more on the "just friends" side. Gomez is clearly infatuated by her phone while Bieber laughs at someone else's joke. However, the timing of Gomez's split from The Weeknd came just as she was seen with Bieber literally everywhere. Like, who knew Los Angeles had so many places to hang out?
On Oct. 22, Bieber actually made an appearance at Gomez's house in Studio City. This was the hangout that initially made people start putting the magnifying glass over their relationship. The exes were reportedly platonically hanging out with a group of friends. TMZ reported, Gomez was seen arriving at her house that Sunday night and Bieber's car followed just 10 minutes after.
There's also a photo of what appears to be Gomez and Bieber walking out of her house, but only the tattooed arm of a male can be seen in the photo, so it's hard to confirm that it's actually the Biebs.
The response from fans on Twitter has been mixed. A lot of people think this calls for a Jelena reunion, while others can't wrap their head around why someone would break up with The Weeknd. Both valid.
Honestly, Twitter's GIF game over this whole situation has been amazing.
Some people claim they saw the split coming.
I think we need an official name for people who side with The Weeknd. Weeknders? Starboys?
As of now, Bieber and Gomez have only confirmed that they are friends. If something romantic is in the works, I'm sure we'll find out eventually. Sooner than later would be preferred, actually.
Check out the entire Gen Why series and other videos on Facebook and the Bustle app across Apple TV, Roku, and Amazon Fire TV.