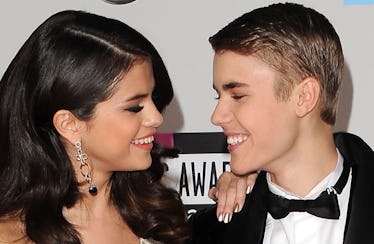 Fans Are Convinced Selena Gomez Is Back With Justin Bieber After Her Reported Split From The Weeknd
Jason Merritt/TERM/Getty Images Entertainment/Getty Images
It looks like Hollywood's former "it" couple might be back on! Exes Justin Bieber and Selena Gomez were spotted spending the day together in Los Angeles on Sunday. According to TMZ, Bieber and Gomez attended a church service together in the morning, then grabbed lunch afterwards, and Bieber was even spotted driving over to Gomez's house later in the night. Hmm, that sounds like a lot of time for these two, who didn't want anything to do with one another after their highly publicized breakup a couple years back. Could it mean Justin Bieber and Selena Gomez are back together? And what about The Weeknd? Let's see if we can make some sense of things.
Apparently, Selena Gomez officially is back on the market after splitting up with her boyfriend of nearly one year, The Weeknd. Sources confirmed to People on Monday morning that Gomez and The Weeknd have called off their relationship. Pair that news with all the time Gomez has been spending with her ex Justin Bieber recently, and you can see why a bunch of people are assuming that Jelena is getting back together.
New pics of Bieber and Gomez show the former couple (slash maybe current couple?) leaving the Zoe Church in L.A., which is the youth- and celebrity-oriented religious organization that both stars have been active members of recently. But the really telling thing is that this isn't the first time Justin and Selena have been spotted together over the past week. Just a few days before these photos, the two were seen hanging out together another time.
The rumored Jelena reunion is being met with mixed responses online, with some fans celebrating the couple possibly getting back together after years apart, and others stating they did not want to see a repeat of the famously volatile Jelena relationship. Check out some of the best responses to the news below:
Justin Bieber and Selena Gomez dated for about four years in the early 2010s, though the relationship was marked by constant chatter of breakups and makeups. This was also during a particularly strenuous period for Bieber in the public eye, as he faced multiple public scandals ranging from egging his neighbors house to abandoning a monkey out of Germany. The couple finally split up for good in 2015, punctuated by Gomez releasing her break-up track "The Heart Wants What It Wants," which she confirmed was inspired by Bieber.
Since the break-up, Bieber has been linked to a number of famous models, including Hailey Baldwin, Sofia Richie, and Kourtney Kardashian, but his biggest focus, it's seemed, has been on reinventing himself as a more respected musician rather than consistent tabloid cover.
Selena Gomez began dating The Weeknd at the very beginning of 2017, and the couple seemed to be going strong throughout the year. However, recent reports say that both of their incredibly busy schedules made it too difficult to keep their relationship afloat, so they recently decided to break up.
The timing of Selena's breakup and this increased time with Justin really does seem to make a case for a resurrection of Jelena, although of course, the two could also just be working on their friendship and nothing romantic could be going on between them. But then again, it's never easy to just stay friends when you have such a fraught romantic history with someone. The only thing we really know for sure is that even if we are not experiencing Jelena 2.0 right now, everyone is going to be keeping their eyes on Justin and Selena for the next few months to try to figure out what's really going on.