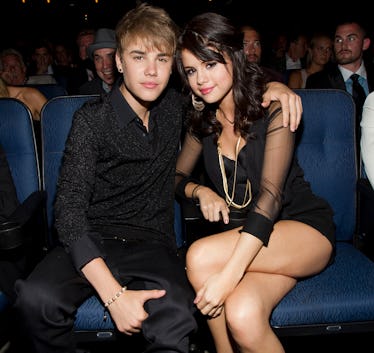 Here Are All The Clues Selena Gomez & Justin Bieber Are Getting Back Together
Christopher Polk/Getty Images Entertainment/Getty Images
For all you fans that held hope for Justin Bieber and Selena Gomez getting back together after all this time, I'm sorry if I ever doubted you. While obviously nothing has been confirmed, it just seems so random that Gomez and Bieber would suddenly be hanging out more amid reports stating that Gomez and The Weeknd have broken up. If you're still not a believer (or Belieber), there are actually tons of clues Selena Gomez and Justin Bieber are getting back together.
Elite Daily reached out to Selena Gomez's team and The Weeknd's team, but did not hear back by the time of publication.
While I'm more than familiar with Gomez and Bieber's on-again off-again relationship that had some fans more invested in it than their actual lives — I forgot how deep it truly went. Below are a few clues that could mean Jelena is on its way to back on... again.
1. They were a lot more serious than people knew.
Bieber and Gomez started dating when they were both still teens. While they were adorable, their relationship was actually a lot deeper than most at such a young age.
Bieber told Complex about the extent of their relationship during an interview in 2015. He even mentioned the reasoning behind posting "Love is a choice" on Instagram after their breakup in November of 2014. As reported by Elle, the "What Do You Mean" singer said,
I moved in with my girlfriend when I was 18. Started my own life with her. It was a marriage kind of thing. Living with a girl, it was just too much at that age. But we were so in love. Nothing else mattered. We were all about each other. But when it's like that and you get your value from that, people will always disappoint you. Your girl or your dude, they're always going to disappoint you. Your full identity can't be in that person. My identity was in her. Her identity was in me. When stuff would happen, I would lose my freakin' mind, and she would lose her mind, and we would fight so hard because we were so invested in each other. Love is a choice. Love is not a feeling. People have made it seem in movies that it's this fairy tale. That's not what love is. You're not gonna want to love your girl sometimes but you're gonna choose to love her. That's something in life that I had to figure out.
Honestly, that is wise AF. Justin, you have truly come a long way. This proves that Gomez and Bieber had a very serious romance which means it's not out of the realm of possibilities that they could still carry that love for each other.
2. Jelena's "Can't Steal Our Love" is too emotional.
In June of 2017, an actual Jelena duet leaked on Soundcloud called "Can't Steal Our Love." The song was thought to be made around 2013 and has since been taken down, but the lyrics are definitely bawl-your-eyes-out material.
Gomez sings in one of the verses:
I can't seem to choose what to do
There's nothing I can say I'm tired of the fight 'cause I'm never right I just wanna cry, no
The song continues:
And just when I feel I've fallen down
You pick me up right off the ground
They can't keep between us two right now
You can't tell me the two people who wrote these lyrics aren't destined to be together. I WON'T BELIEVE YOU
3. Gomez will "forever support" Bieber.
There's no denying Gomez and Bieber have had their ups and downs. Gomez very publicly called out Bieber in August of 2016 on Instagram for his rumored relationship with Sofia Richie. That's a (very petty) low point. However, the two have never lost love for each other — and probably never will.
Gomez was on the cover of Elle in Oct. 2015 where she spilled the tea on everything. The singer said about Bieber,
I'll forever support him and love him in a way that…. We grew up together. I think people want it to be different. We're too young for that. Nobody was married. There was no…. I respect him. And I think he respects me, in a healthy manner.
Basically, Gomez is saying that people wanted their relationship and breakup to be more dramatic than it was and she will always have love for him.
4. Bieber also has nothing but love for Gomez.
Since Bieber and Gomez have been seen out together recently, the two are obviously still close. It seems that no matter where their relationship has been, the two will always have love for each other... but how much?
In January of 2016, Bieber was on a radio program called The Bert Show. As reported by Seventeen, here's what the singer had to say about Gomez,
I just want her to be happy. I love [Selena]. We're friends still. We needed time to grow for ourselves and we were like, 'Maybe we'll come back together in the future,' and then it ended up being so long and we just grew apart and we're not the same people anymore.
Keep in mind, this was almost two years ago. The two have since been hanging out and (maybe) reconnecting. There's no reason Jelena can't come back together, especially now that The Weeknd is out of the picture.
While these four clues don't prove Bieber and Gomez are cooking up a romance, they definitely hold some weight for Jelena shippers. Only time will tell what the future holds for Gomez and Bieber.
Check out the entire Gen Why series and other videos on Facebook and the Bustle app across Apple TV, Roku, and Amazon Fire TV.