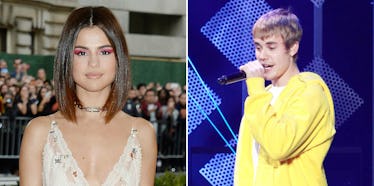 Do We Finally Have a Selena Gomez & Justin Bieber Duet? — LISTEN
Shutterstock
STOP WHATEVER YOU ARE DOING RIGHT NOW.
Speculations over a Selena Gomez and Justin Bieber duet have once again emerged, and it seems like it is the real deal this time.
Ladies and gents, this is not a drill. We never kid when it comes to a Jelena love song.
We have been gifted with a track titled "Can't Steal Our Love" (though it turns out, The Weeknd certainly can) and it chronicles Selena and Justin's rocky young relationship.
The song, which leaked on Soundcloud, is reportedly from 2013 or 2014, when things were really tumultuous between the two. Have a listen to the alleged duet below and reminisce about the old days if you so choose.
Get a load of those lyrics. Selena sings in one of the verses:
I can't seem to choose what to do There's nothing I can say I'm tired of the fight 'cause I'm never right I just wanna cry, no
Sentiments pick up with:
And just when I feel I've fallen down
You pick me up right off the ground
They can't keep between us two right now
This is pretty deep for a couple in their early 20s.
Now Selena and The Weeknd are the ones going strong. Just recently, the rapper took to Instagram to share a picture of his "precious little diamond" for the world to see, and obviously he gets an "A" for boyfriend goals.
Side note: That looks like quite the pocketbook, Selena. Now that's another "precious little diamond."
Meanwhile, we are anxiously awaiting for the Biebs to release a new album. The Purpose tour will be wrapping up in September, so this fella better give his fans something to look forward to or they're going to lose it. Patience is a virtue that so little of us have.
Things might have changed since "Can't Steal Our Love," but we're still here for whatever happens next.