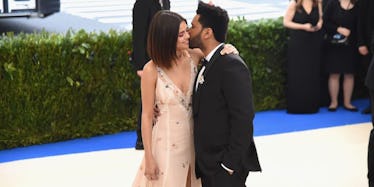 The Weeknd Did The Cutest Thing For Selena Gomez On Instagram
Nicholas Hunt/Getty Images for Huffington Post
2017 is the year of the Hollywood power couple. We have Gigi Hadid and Zayn Malik, J. Lo and A. Rod, Kim and Kanye, and the list goes on and on.
However, the duo that has been on everyone's radar is none other than Selena Gomez and The Weeknd. The "Bad Liar" singer and her boyfriend have been seen packing on the PDA all over the world.
Gomez has even been following him around on tour, according to Elle. It seems that they're totally obsessed with each other.
The two are definitely not shy about sharing their relationship on social media. Yesterday on Instagram, The Weeknd posted the sweetest tribute congratulating Gomez on her latest Coach campaign.
There were no words or sounds with the picture, just five diamond emojis. If this doesn't say "best boyfriend ever," I don't know what does. It's great to see Gomez with somebody who seems so loving and supportive.
Since posting, The Weeknd has scored some major brownie points with Twitter. Fans have been tweeting in support of this somewhat unexpected relationship.
Although not everyone chooses to have a public relationship in Hollywood, we are digging them putting it all out there. Plus, the open support of each other's careers is major #couplegoals.
Yasss! I don't have any more to add to this.
This would be magical. What do we need to do to make this happen?!
The love and support works both ways in this relationship. Gomez is often seen rocking The Weeknd's merch.
She loves his music and is always posting photos and videos from his shows. Plus, she really engages with fans and seems to have a genuinely good time doing it.
Can't wait to see what's to come with these two lovebirds. The support is unreal and I think they're on their way to a pretty great future. One thing is for sure, we'll be seeing a lot more of this:
Now that I'm done gushing, you can go ask your boyfriend why he hasn't posted a #WCW of you in like a month! The Weeknd is an awesome Instagram boyfriend, so take notes, gentlemen.