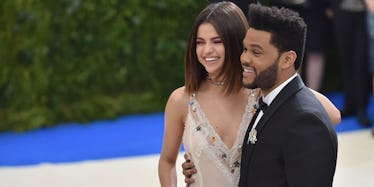 Here's The Ultimate Timeline Of Selena Gomez And The Weeknd's Relationship
Getty Images
Selena Gomez and The Weeknd are one of the most unexpected celebrity couples. TBH, I thought this was a PR relationship at first 'cause it just seemed so random and weirdly beneficial.
Yes, I am a celebrity conspiracy theorist. I trust nothing and no one. Everything on this planet is made up, including celebrity relationships. NO ONE IS SAFE FROM MY THEORIES (except Kristen Stewart and Stella Maxwell, they are pure).
Gigi Hadid and Zayn Malik? Fake. Drake and J. Lo? Fake as hell.
Taylor Swift and Tom Hiddleston? Sooooooooooo fake.
Taylor Swift and Harry Styles? THE MOST FAKE OF THE FAKES. THE DEFINING FAKE.
I think Justin Bieber and Selena were real, though. That's why I originally thought Selena Gomez and The Weeknd were as fake as my self-confidence.
You see, Selena needs to get her image away from the whole "being Justin Bieber's ex" thing, so dating someone new and completely different would help accomplish that for sure.
But as time went on, my cold heart started to believe in the SEEKND LOVE. (Has anyone come up with Seeknd yet? I kind of hate it. Let's just forget I said it.)
So let's break down all the receipts with this timeline of how their relationship came to be:
They first met...
...When they both performed at the Victoria's Secret Fashion Show in 2015, most likely. The Weeknd (real name Abel Tesfaye) was dating Bella Hadid at the time, so their first encounter probably wasn't a meet-cute.
But Selena recently pretty much confirmed "Bad Liar" is about catching feelings for him. In an interview with the Miami Power 96 radio station, she said "Bad Liar" is about the feelings you get when you first meet someone and you're immediately into them.
She revealed the song was written about a year ago, leaving people to question whether it was about The Weeknd, since they've been dating for less than a year. But when you consider the fact that they met in 2015, it's totally believable that she had a thing for him from the beginning and was keeping those feelings on the back burner since he wasn't single.
She said,
It kind of tells a story. It's that feeling when you're obsessed with someone, when you first initially, I always say the 'honeymoon stage,' and I'm a sucker for that feeling. It's the best feeling in the whole world. I think that feeling, you can't get them out of your head, you're willing to want to dress differently, you want to be differently. It's not what I'm encouraging, it's more about that feeling that you can't keep it cool.
They were first spotted together...
...In January 2017, when paparazzi caught photos of them walking around LA together and making out. STEAMYYYY.
(Note, this was the first time I thought this was a fake relationship, because what stars actually let paparazzi take pictures of them making out with someone? *Cough* Taylor Swift and Tom Hiddleston staged the photos of them kissing on a rock in Rhode Island *cough*.)
Bella Hadid and The Weeknd had only broken up two months before these pics were taken. Yikes.
Bella Hadid unfollowed both of them on social media.
Right after the pictures of Gomez and The Weeknd circulated (literally, the same week), Bella Hadid unfollowed both Gomez and her ex on social media.
According to a source that spoke to People, Hadid and The Weeknd's breakup wasn't a bad one, but it still stung that he moved on so fast afterward. The source told the outlet, "Bella and Abel's split wasn't dramatic, but of course she's hurt and pissed that he's moved on so quickly with Selena."
On January 14, Hadid posted a picture on Instagram of her giving a camera the middle finger, making people believe this was s response to The Weeknd's new relationship. Can you blame her?
Selena and The Weeknd followed each other on social media.
Shortly after their dumpster make-out session (they were literally next to a dumpster in the pictures, my kinda romance), the pair followed each other on social media and were reportedly "texting every day," according to Cosmopolitan.
The report says Bella Hadid reached out to The Weeknd warning him that Gomez always dates the guys she collabs with (Charlie Puth, Zedd), but The Weeknd apparently brushed it off, saying she was "jealous."
The new couple went on their first vacation together at the end of January 2017.
The couple was spotted out in Florence, Italy, together despite all of the Bella Hadid drama.
The Weeknd was posting on his Instagram story throughout the whole trip, confirming he was in Italy that week. Though he didn't post any videos/pictures of Selena herself, it was obvious they were there together.
You can literally hear Gomez talking in the background of one of the videos, so.
The Weeknd (possibly) shades Justin Bieber in the song "Some Way."
On February 15, Nav dropped his song "Some Way" featuring The Weeknd. In the song, The Weeknd literally throws PAINFUL shade when he sings,
I think your girl, think your girl, fell in love with me She say my f*ck and my tongue game a remedy
The chorus goes,
Oh yeah, yeah, I just hit a lick and I know you feelin' some way (nah, nah nah nah, nah nah nah) I just took that chick, and I know you feelin' some way, oh yeah
Uh, sh*t. The internet semi-blew up when the song dropped because of The Weeknd's verse/chorus.
They started posting a lot more pictures/videos on each on their Instagram stories.
Once February came around, the pair wasn't as shy about posting shots of each other on their Instagram stories.
Selena posted a picture of her sitting back at one of The Weeknd's concerts on the Starboy tour.
She even posted video of her watching him perform where she can be heard saying, "Awww, baby."
The Weeknd posted this really trippy video of Selena Gomez sitting in front of a tank of jellyfish on his Instagram story, so that was interesting.
Then he posted a pic of himself with the same jellyfish on his page, most likely taken by Selena.
They finally made their relationship official on social media during Coachella.
The pair attended Coachella together, and made their relationship official for the world to see when Selena posted this selfie of them together on April 15.
"Hey world, it's us, ~Seeknd~."
God, that really just doesn't work, does it?
The made their first red carpet appearance together on May 1 at the 2017 Met Gala.
FINALLY. ALL DRESSED UP AND SWANKY.
The two arrived to the red carpet and slayed everyone in these adorable pictures.
They may not have committed to the Commes des Garçons theme like Rihanna did (many of the year's attendees did not, a true sin), but they made up for it with these pics.
Rumors circulate that the couple is collaborating on new music together.
The rumors started when fans discovered a clue on producer, songwriter, and singer Max Martin's Wikipedia page. His discography showed Selena's upcoming song "In Her Element" as part of his recent work.
The discography listed The Weeknd as a featured artist on the track, causing fans to freak the hell out. The info has since been deleted from the page, but screenshots never die.
Selena releases "Bad Liar," which we already know is about The Weeknd.
On Wednesday, Gomez dropped a film (aka a new music video) for "Bad Liar," and it's everything.
It features Gomez playing a bunch of different characters, Taylor Swift lookalikes, and a sweet LGBT storyline revealed at the end.
So while the music video might not be about The Weeknd, the song still is.
The couple posts some ~steamy~ videos on their Instagram stories.
Gomez was on her way to The Weeknd's concert in New York City last week when she posted a video of her eating a cheesecake on their way there.
When I said "steamy," I was referring to this cheesecake.
Gomez was in the car with Este Haim (if you don't know the band HAIM, shame on you) when Haim asked her what she was doing Selena responded,
I'm eating a cheesecake before my boyfriend's concert.
Truly iconic.
Later that night, Gomez posted a video that I guess some people would find more accurately fits the word steamy, but I'm still drooling over the cheesecake, TBH.
The singer is taking a selfie video while hugging The Weeknd and resting her face on his shoulder in a car. IT'S GETTIN' HOT IN HURRRRRRRR.
So that's it, folks. That's the full story of the Seeknd love so far.
Yeah. That's probably the worst celebrity couple name to ever be created.
What are we supposed to use??? Abelena? Welena?
Literally NONE of these work.