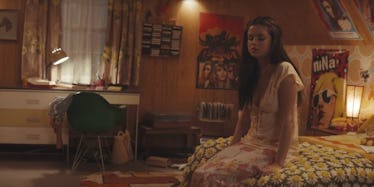 There May Be A Taylor Swift Lookalike In Selena Gomez's New "Bad Liar" Video
YouTube
Selena Gomez just dropped her "Bad Liar" film and it's AMAAAAZZZEEEEE.
For real, homegirl made a new music video for the song and I'm here for it. Thank for this, Selena. You are a true friend. A most precious flower. A majestic smol bean. Now go dance the night away with The Weeknd. You earned it. (Get it???? Thank you. I am hilarious.)
The video was released around 1 p.m. on June 14, and it featured Selena Gomez playing literally all of the characters, consisting of her character, the character's mom and dad, and the character's gym teacher. It's trippy as hell.
BUT WAIT. HOLD ON.
DID ANYONE ELSE NOTICE THE GIRL ON THE POSTERS IN SELENA'S ROOM LOOKS EXACTLY LIKE TAYLOR SWIFT??????
Uh, ya, I guess so, considering Twitter already figured it out.
LOOK AT THIS SH*T.
LOOK AT IT.
LOOK. AT IT.
That is Taylor Swift if I ever did see her. And apparently, in this trippy as hell '70s universe, she's a singer named Nina?
And there is more than just one poster.
BEHOLD.
Mandy. Means. Mayhem.
MANDY IS TAYLOR SWIFT, YOU CAN @ ME.
But also, what happened to Nina?!
You thought that was the last of the Taylor Swift cameos????
"Surprise, b*tches. I bet you thought you saw the last of me."
I AM SHOOK.
Am I supposed to believe that in this alternate '70s universe not only is Taylor Swift alive and well, but she's also a singer named Nina, who also sometimes goes by Mandy, and is also the Farrah Fawcett in the knock-off version of Charlie's Angels?!
I'm stressed. I need water. If I hit caps lock on my keyboard again I think it might break.
So, yeah, I guess this was a not-so-subtle hint from Selena that she and Taylor are doing just fine, no matter the status of the squad.