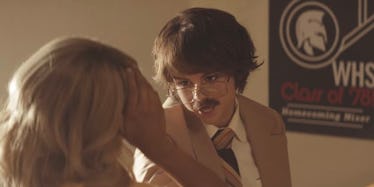 All The Characters Selena Gomez Plays In Her Epic "Bad Liar" Video
YouTube
Selena Gomez just dropped her "Bad Liar" music video and it is everything we hoped it would be, and not at all what we thought it would be at the same time.
While fans were speculating it would most likely be a sexy romp of a video, possibly winking at her new relationship with The Weeknd, the "Bad Liar" film Gomez shared on social media is totally different.
The music video follows a variety of characters all played by Gomez herself, and she is completely fascinating and entertaining in it.
Take a look.
The story follows a young high school girl who most resembles Selena Gomez as we know her.
Here she is being all, "Well, yes I am an unidentifiable age somewhere between 19 and 30 years old, what about it?"
Next up is a sexy, IDK, Farrah Fawcett (???) gym teacher character.
Ugh, yes. Blonde wig, yes. Not that we would ever encourage Gomez to change a damn thing, but if she needs to switch things up, I am totally digging this vibe.
Then there's a man who works at said school and also apparently is her father.
Selena Gomez as a man would have a crazy full head of luscious hair. This is my favorite character out of all of them, as it is the funniest and most unexpected.
Lastly, there's a smoking hot mother character with eyelashes for literal days.
No hate on the bump-it hairstyle. Literally just love.
Overall, the video is a delightful and entertaining journey that comes a little bit out of left field.
Plus, at the end, the Queen of Teasing gives us new information on her next project that is making us lose our minds. In the last 15 seconds of the video, Selena teases her new project (song? album? tour?) "Fetish," and gives us total face.
What can we say? The girl is full of surprises.