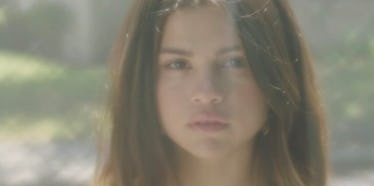 Selena Gomez Drops Huge Hint About Her Next Project In "Bad Liar" Video
YouTube
NOBODY FREAK OUT, BUT THERE IS A LOT GOING ON WITH SELENA GOMEZ.
The "Bad Liar" singer just released the official music video for her latest hit, and while it's, like, IDK, EVERYTHING, at the very, very end it looks like Gomez teases her next project... something called "Fetish."
Dun dun dun.
The "Bad Liar" video itself is a playful romp in which Gomez seems to poke fun at herself, portraying a variety of characters from the '70s including a gym teacher and (I think) her dad???
Without giving anything away, the sexy track is a total contrast to the visual content she produced for the promotion of her "Bad Liar" single. We also assumed it might be a sexy video about her even sexier boyfriend, The Weeknd.
Instead, it's something totally unexpected. Take a look.
While viewers are able to settle into the joy of watching Gomez transform, the last 15 seconds are something entirely different.
As the camera fades on "Bad Liar," a title card appears with the words "Coming Soon" followed by "Fetish." Then, for just a few short, mysterious moments, a camera hovers over Selena Gomez's face.
What does it mean? What does it mean? What does it mean?!
Selena, you woman of mystery and intrigue. You've gone and done it again!
Guesses could be that "Fetish" is the name of her upcoming tour, her next single, or next album – any of which we will take, obviously!
It looks like Gomez has become the queen of teasers: Fans are constantly obsessing over her "Bad Liar" hints, and GOD ONLY KNOWS what she meant when she announced the concept of a "Bad Liar" film.
While she did an incredible job getting fans to obsess over her music video, she also successfully roped us into whatever magical creation she has coming next.
We will wait patiently, and by patiently, I mean loudly and aggressively. "Fetish" can't come soon enough.