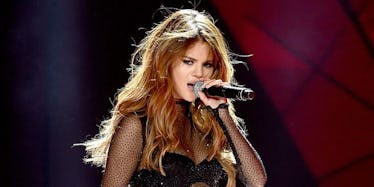 Selena Gomez Is Dropping "A Film" For "Bad Liar" And Fans Are Freaking Out
Getty Images
Hold the freaking phone. Shut the freaking front door. Get the freaking freak out. Is Selena Gomez making a movie?
On Monday, June 12, the "Bad Liar" singer tweeted a mysterious teaser making us think um, yes, and apparently whatever it is, it's happening this Wednesday, June 14.
It's unclear at this point what Selena Gomez means by "film," but fans clearly have a lot of questions.
Like what? Who? Where? What do you mean?! But the one thing everyone can agree on is that whatever it is, we are READY.
Though we are all losing our minds over the prospects, it should be expected that the multi-talented entertainer has something like this up her sleeve.
As the executive producer of the hit Netflix Series 13 Reasons Why, this wouldn't be her first rodeo into script making... but it could be OUR first rodeo with a Selena Gomez film.
Sure, it could be a glorified music video, but it could also be an award-winning, full length feature film in which Selena ultimately breaks up with The Weeknd and gets back together with Justin Bieber accumulating in the ultimate love story AND ultimate triple whammy PR stunt... AND I JUST THOUGHT OF THAT OFF THE TOP OF MY HEAD!
The point is, Selena can't stop slaying right now and whatever she touches turns to gold, and a film involving her is sure to deliver.
I MEAN, HAVE YOU SEEN THIS GIRL EAT A DOUGHNUT FOR CRYING OUT LOUD?! GENIUS!
Though we have zero point zero details on how we can watch the film (or what it even is), fans will obviously be watching Selena's social media as if it was the finest entertainment known to man, waiting for a glimpse of more information, and just a touch more detail.
In the meantime, all we can do is wait, pray, and clear our calendars for this upcoming Wednesday, June 14.