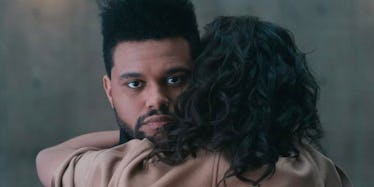 People Think The Weeknd's New Music Video Is About Selena Gomez And Justin Bieber
YouTube
Look, no one loves a good love triangle theory more than me, which is why The Weeknd's new music video for his song "Secrets" is so much fun.
Fans are theorizing across the internet and beyond that the latest hit from the music star has to be about his new girlfriend, Selena Gomez, and her ex Justin Bieber. It just has to be, you guys.
In the video, a Selena look-alike-ish (???) kind of rolls around on a white, glorified futon and hugs a white guy who, sure, could be there to represent Justin Bieber.
I don't know, see for yourself.
YouTube users broke it down for us and my biggest takeaway is that math is involved.
YouTube user Lara Black said, "Why do l feel it's about Selena and Justin?" and user Qazi Rabbi agreed:
I know that this song is older then his relationship with Selena but IDK why but I feel this video tho is about Justin and Selena! ps.( I mean at this stage of the album release he should've done like sidewalk or All I know! )
However, user Valerie Butera had her own theories and brought up The Weeknd's ex, Bella Hadid, and his dating timeline:
Lara Black it'd make wayyy more sense if the song was about bella, he wasn't publicly dating selena when this song came out and it wouldn't make much sense for him to write about his gf and her ex
Ugh. Great point.
Other users commented,
i thought it was justin and selena IDK it just feels like it's about Jelena if it's not, then it's about Bella
I don't know, I'm not a celebrity-dating time lord or anything, but it is kind of hard to argue with math.
Unless Selena Gomez and The Weeknd have been in the works much longer than they're letting the public in on, it's a long shot to put this one on her past relationship.