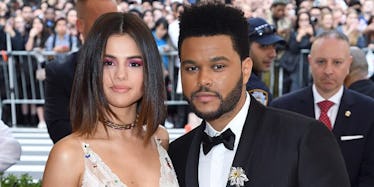 Selena Gomez Hints "Bad Liar" May Be About Her Relationship With The Weeknd
Karwai Tang/WireImage/Getty Images
When Selena Gomez's new single, "Bad Liar," dropped two weeks ago, most people immediately thought it was about The Weeknd.
It's all about catching feelings for a new guy and not being able to get him out of your head. And whoooooooo is she dating now? The Weeknd. So it's a fair assumption.
Selena's collaborator, Justin Tranter, hinted that's exactly who the song is about when he told Variety, "The lyrics are really cool and descriptive about when you first start having feelings for someone, but don't want to admit it, which turns you into a 'bad liar.'"
Right, so you're saying it's about The Weeknd.
But Selena threw us off that trail a little bit when she told Miami's Power 96 radio station that she actually created the song a year ago.
She said, "I actually have had 'Bad Liar' for about a year." Since she and The Weeknd only started dating earlier in 2017, this new info about the song makes it seem unlikely that the song is actually about their relationship.
But the plot thickens when you consider the fact Selena Gomez and The Weeknd first met back when they both performed at the Victoria's Secret Fashion Show in 2015.
Think about it: She totally could have met him at the show and immediately was into him. Then she kept her lil' crush a secret until 1) she knew her feelings were legit and not just a crush, and 2) The Weeknd was single. (He was dating Bella Hadid from 2015 to 2017.)
When you consider that possibility, then "Bad Liar" can totally still be about him.
In the interview with Miami Power 96, Gomez said,
It kind of tells a story. It's that feeling when you're obsessed with someone, when you first initially, I always say the 'honeymoon stage,' and I'm a sucker for that feeling. It's the best feeling in the whole world. I think that feeling, you can't get them out of your head, you're willing to want to dress differently, you want to be differently. It's not what I'm encouraging, it's more about that feeling that you can't keep it cool.
She continued,
It's just what I'm feeling at this exact moment, and I don't know how to play it cool. I'm not that girl. I'm very much, 'This is who I am, this is kind of what you get.' And it's worked out for me so far! I definitely think other girls can relate to that.
So basically, what just happened here is we all thought "Bad Liar" was about The Weeknd, then we didn't for a hot second, and then Selena was like, "Ya, it's about The Weeknd."
Case closed.
Citations: SELENA GOMEZ REVEALS WHAT (AND POSSIBLY WHO) "BAD LIAR" IS ABOUT (Harper's Bazaar)