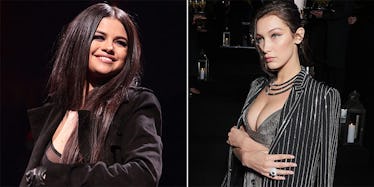 Bella Hadid Unfollows Selena Gomez After Her Makeout Session With The Weeknd
REX/Shutterstock
Well, it looks like Selena Gomez and Bella Hadid won't be hanging out anytime soon.
In case you've been living under a pop culture rock the past 24 hours, let me catch you up to speed.
The Weeknd (AKA Bella Hadid's ex of just two months) was spotted making out with Selena Gomez behind a dumpster in Santa Monica on Tuesday night.
That's right, a dumpster.
Were they trying to recreate the spaghetti kiss from "The Lady and the Tramp?" Since they actually attended the restaurant Giorgio Baldi, who knows? I mean, they did eat Italian.
Although in these photos, The Weeknd's face just screams, "Ahhh, maybe we shouldn't smooch where they toss all the garbage?"
According to Elle, Bella had still been following Selena on Instagram as of 10:30 am PST on Wednesday.
Well, as of 12:27 pm, that all changed. Bella has officially unfollowed Selena, and may God have mercy on our souls.
Forget Russia and the US. The new Cold War will be between Bella Hadid and Selena Gomez in 2017. WE ARE AT DEFCON 5, PEOPLE. WINTER IS COMING.
What's even worse, Selena is still following Bella on Instagram as of 12:49 pm. Oh, Selena... you sweet, summer child.
However, Bella hasn't exactly cut The Weeknd from her social feed as she's still following his Instagram account as of 12:39 pm.
This I get. Why have social media if you're not going to lurk on your ex's Instagram at 3:07 am?
Of course, it's not looking like Selena and Bella were strangers. In fact, they hung out with Suki and Immy Waterhouse as recent as September of 2015.
And when Selena returned to Instagram six weeks ago, who was there to like her post? Bella. Fucking. Hadid.
In the immortal words of Albus Dumbledore:
A source recently told E! News although the new couple initially wanted to keep their romance hush-hush, they both decided to go public,
At first, Selena and Abel wanted to keep their relationship a secret. But they've decided they really don't care if everyone knows about them.
They might not care if everyone knows about them, but one person cares about knowing about them (if that makes logical sense): Bella. Fucking. Hadid.
Citations: Bella Hadid Just Quietly Unfollowed Selena Gomez on Instagram (Elle), Why Selena Gomez and The Weeknd Took Their Romance Public So Soon (E! News)