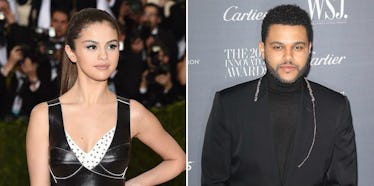 Selena Gomez And The Weeknd Pack On PDA In Pics From Their Italian Vacation
REX/Shutterstock
Selena Gomez and The Weeknd absconded to Italy together, which must mean they are really not messing around.
I mean, I've been with my boyfriend for three years and we've never absconded anywhere together. That might be because we're poor, though. Anyway.
Selena and The Weeknd were spotted out and about by fans in Florence on Friday.
It's a little blurry, but if you squint you can see Selena in a pink dress getting into the car, and The Weeknd walking around to the other side of the car.
See? Those little blobs there? That's them.
And this is definitely a romantic getaway — look at them cuddle!
Or maybe Selena Gomez is just bored and tired from all the art museums the couple is hitting up.
According to The Weeknd's Instagram story, it looks like they're taking full advantage of the Art Capital of the Renaissance.
I'm no art historian, but that looks a lot like some fancy old Italian art you'd find in Florence.
It looks like some lucky fans in Florence have seen the couple out and about, too.
Earlier this week, the couple was seen holding hands together in LA. Before that, The Weeknd followed Selena on Instagram.
Now, they are off on a romantic getaway to Italy? Like damn, just get married already, am I right?
Of course, it's only been two weeks since they were first seen kissing each other outside Giorgio Baldi in Santa Monica.
So it actually seems like they are taking things pretty fast. Maybe they got inspired by Selena's BFF Taylor Swift and Tom Hiddleston, though let's hope they don't end up like them.
Well, good for Selena for finding a man who treats her to a trip to Italy.
(Meanwhile, my boyfriend made me pay for the Taco Bell last weekend for the third time in a row, but I'm not bitter!)
Oh, and can someone check on Justin Bieber and Bella Hadid, please?
Citations: Selena Gomez and the Weeknd Are Currently Having Their Own Italian Vacay (ELLE)