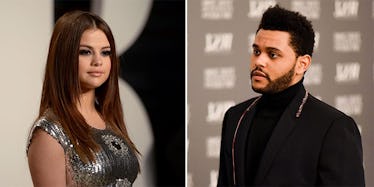 The Weeknd Followed Selena Gomez On Instagram So Things Must Be Getting Serious
REX/Shutterstock
So The Weeknd is hard to reel in, apparently.
It's been weeks since he was spotted making out with Selena Gomez behind that romantic, candlelit dumpster -- but he's only just followed her on Instagram.
Here's that photo, in all its romance and glory. So much love, so much litter.
And here's a screenshot of who The Weeknd (can we talk about that stupid name, btw?) is following on Instagram.
So he likes to keep an eye on Marvel, James Blake and Jessica Alba, but when it comes to his own GF he DGAF?
Selena Gomez is a recent follow for him -- proving The Weeknd and his untamable hair are super hard to lock down.
It actually sounds like Justin Bieber is more into their relationship than The Weeknd himself.
The singer was cornered by paps as he left Delilah in West Hollywood the other night. One shouted after him and asked if he ever listened to any songs by The Weeknd. His response?
Hell no, I can't listen to a Weeknd song.
Wait, not even "Starboy," or that one about feeling someone's face? Nah. The B-man has no time for his music.
When the pap asks him why, Bieber says,
That shit's whack.
Ultimate sass from some kid who used to rock a bowl-cut.
Meanwhile, it looks like Bella Hadid really doesn't care about what's going on in her ex's life.
Firstly, she got a tattoo of a pair of angel wings (possibly as a nod to her first Victoria's Secret walk late last year).
Then she was pictured kissing some guy while wearing a see-through top. Also, Kendall Jenner's in the pic.
Yeah, wtf? Who is this guy?! It looks like the set of a sleazy black and white French porno.
Someone please explain these celebs' lives to me.