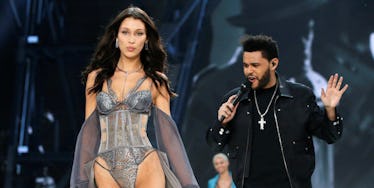 Bella Hadid's Cute New Tattoo Will Always Remind Her Of Ex-BF The Weeknd
REUTERS
Bella Hadid has gone to extreme lengths to block out all The Weeknd/Selena Gomez drama.
The supermodel branded herself with a pair of angel wings.
She reportedly got inked at West 4 Tattoo in Manhattan after celebrating her mom's birthday in the city.
Famous tattoo artist Jon Boy shared a couple of photos on Instagram on Sunday. It shows two dainty wings (that kinda look like emojis) on either side of her ankles.
It looks like a nod to her Victoria's Secret Fashion Show debut late last year. But the 20-year-old's going to have to try very hard not to associate the inking with The Weeknd.
The singer performed during her walk, and the pair exchanged lustful come-to-bed eyes.
At the time, they'd reportedly just ended things after dating for a while.
She posted an Instagram photo of the encounter and then gushed over him.
She wrote in December,
I can't believe it! I was smiling SO HUGE on the inside I promise!!!! The most fun and nerve racking experience of my life but I wish I could do it over and over and over again!!!!! Thank you @theweeknd for being the best and most incredible performer on the planet. You KILLED it, as always. And not enough thank you's to @ed_razek@10magazine @johndavidpfeiffer@monica.mitro and the whole VS family!!! Thank you for believing in me I love you all so so so much.
PEOPLE DON'T FORGET, BELLA.
Meanwhile, the Selena Gomez beef keeps on coming. I'd like to remind you of this photo:
A source close to Bella Hadid said the model felt "betrayed" by Selena Gomez. But the singer has since fired back, claiming she was never friends with the Angel to begin with.
Selena Gomez was filmed leaving an LA restaurant recently while paps shot personal questions at her regarding the hookup drama.
She ignored all of them and was bundled into a car, because she probably wants to keep her private life... private.