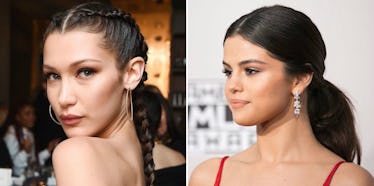 Selena Gomez Apparently Claims She And Bella Hadid Were Never Friends
REX/Shuterstock
LEAVE SELENA GOMEZ ALONE!
According to TMZ, a source close to the "Hands To Myself" singer says she has every right to date The Weeknd because she and Bella Hadid aren't good friends.
In case you missed it, Selena Gomez and The Weeknd made out next to a dumpster outside Giorgio Baldi in Santa Monica. Photos of their big ol' smooch went viral. See below.
Since that kiss, Bella Hadid unfollowed Selena Gomez on Instagram. We also learned The Weeknd and Selena have apparently been hooking up for two months now... aka right after Bella Hadid and The Weeknd broke up.
Bella Hadid's fans are upset with Selena because they think she broke girl code. According to fans, the two women are friends. I mean, they are BOTH in Taylor Swift's squad... it makes sense.
However, TMZ says that's not exactly the case.
The outlet's sources say Selena and Bella Hadid were just "distant acquaintances." Selena's main BFF is Taylor Swift, who is also good friends with Gigi. Therefore, Selena doesn't know Bella that well.
On January 13, Bella Hadid posted a photo on Instagram of her giving a middle finger to the paps.
People obviously took it as the model saying a big "fuck you" to Selena Gomez and The Weeknd.
Neither Selena Gomez nor The Weeknd have directly commented on the rumors of their relationship status.
The Weeknd did release his new "Party Monster" music video, which many people believed was about Selena.
The song's lyrics read:
And I've seen her get richer in the pole I've seen her, I knew she had to know I've seen her take down that tequila Down by the liter, I knew I had to meet her Ooh, she mine, ooh girl, bump and grind Ooh, she mine, ooh girl, bump a line Angelina, lips like Angelina Like Selena, ass shaped like Selena
HMMMMMMM, does he mean Selena Gomez?
I'm not sure, but hopefully one of the stars comment on the rumors soon.
Citations: Selena Gomez And Bella Hadid Not Friends (TMZ)