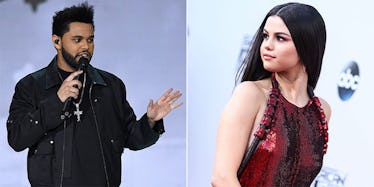 People Think The Weeknd's Song Lyrics Were About Selena Gomez The Whole Time
REX/Shutterstock
Selena Gomez and The Weeknd made countless headlines on Wednesday when pictures of the duo having a make-out session broke the internet.
We reported earlier Selena Gomez and The Weeknd shared a kiss outside Giorgio Baldi in Santa Monica.
In the series of pictures, Gomez has her arms draped around the 26-year-old singer.
The ultimate cherry-topping of this duo hanging out together is the photo of them kissing while the camera snapped away.
TBH, I almost made a scene as I low-key choked on my Cinnamon Dolce Latte when these pictures popped up on my laptop.
I felt completely blindsided, but my Selenator-self has to admit I am kind of in love with these adorable shots of Selena and The Weeknd.
NOW, people on Twitter are digging even deeper into the story behind these pictures...
Many Twitter users believe The Weeknd's song lyrics for "Party Monster" were about Selena Gomez this entire time.
Have a look at the lyrics for yourself:
And I've seen her get richer in the pole I've seen her, I knew she had to know I've seen her take down that tequila Down by the liter, I knew I had to meet her Ooh, she mine, ooh girl, bump and grind Ooh, she mine, ooh girl, bump a line Angelina, lips like Angelina Like Selena, ass shaped like Selena
The Weeknd and ex-girlfriend Bella Hadid broke so many of our hearts when they split up in the beginning of November.
They reunited in Paris post-breakup and even shared the sweetest moment ever for all of our eyes to swoon over on the Victoria's Secret Fashion Show runway. The Weeknd couldn't keep his eyes off of Bella as she strutted her stuff in lacy lingerie.
These new photos of Selena Gomez and The Weeknd leave us with SO MANY QUESTIONS.
Do not fret because E! News graced all of us with the exclusive, juicy scoop we've been anxiously waiting for.
According to their source,
Abel though always had a thing for Selena. He thinks she is extremely talented and sexy. They recently started talking before the holidays but she has been on his radar before. They are on the same level with expectations and think the other is really fun. They are taking things slow and getting to know each other.
HEY — SELENA AND THE WEEKND — IT'D BE REAL SWAG IF YOU COULD UPDATE US ON THE SITCH WITH A CUTE INSTAGRAM PICTURE.
Citations: Why Selena Gomez and The Weeknd Took Their Romance Public So Soon (E! News)