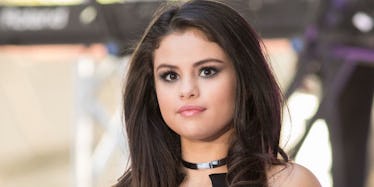 Selena Gomez Frantically Dodges Questions About Bella Hadid In Awkward Video
REX/Shutterstock
For one cruel moment, Selena Gomez thought she could have a relationship without it descending into a media circus.
SHE WAS WRONG.
Now the rumor mill is spinning uncontrollably with speculation about a bitter rivalry between her and Bella Hadid over The Weeknd (who, BTW, is living proof you can rock a stupid haircut and score any woman in the world).
*Doesn't wash hair for weeks to produce matted mess and waits for supermodels to flock*
I can't help but feel sorry for Selena, who's obviously pissed over all the attention in this video caught by TMZ.
It shows the singer getting ambushed by the paps as she leaves Italian restaurant Terroni in Los Angeles on Sunday night.
They swarm around her like vultures and squawk questions at her about her love life. One is heard saying,
Have you talked to Bella Hadid? How did you and The Weeknd meet?
Both good questions we desperately want answers to – but ones she was in no mood to answer.
This whole thing blew up after photos emerged of Selena Gomez and The Weeknd sharing a smooch next to a romantic dumpster.
At first we assumed it was just the start of another celebrity fling. But it's since emerged this little romance may have been going on behind Bella Hadid's back for weeks.
Apparently, Selena Gomez and The Weeknd started dating in secret a couple of months ago – right after things died between him and the supermodel.
A source close to Bella has claimed she feels "betrayed" by Selena.
However, in a savage plot twist, Selena has reportedly stressed the duo were never friends in the first place. CLAWS OUT.
Earlier this week, we took a look at what this new relationship means for the celeb's tangled love casserole. And let me tell you, it looks like an incestuous mess:
Yeah, go ahead and try to wrap your head around that one. We'll wait.
Citations: TMZ