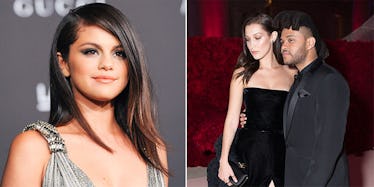 Selena And The Weeknd Apparently Started Dating Months Ago And Bella's Pissed
REX/Shutterstock
2017 seems to be off to a great start for everyone except Bella Hadid.
The 20-year-old model recently learned her ex, The Weeknd, has been hooking up with Selena Gomez behind her back.
Immediately after, Bella Hadid unfollowed Selena Gomez on Instagram. But now, there is new information about how the model really feels about her ex's new fling.
According to TMZ, a source says Bella Hadid feels "betrayed" by Selena Gomez. The insider clarifies Bella was the one who actually broke things off with The Weeknd two months ago, but only because it was too difficult to maintain a long distance relationship.
However, TMZ says the "Hands To Myself" singer and the "Starboy" spent the holidays together.
Yeah, they've apparently been dating for two months... aka right after things ended with Bella.
To make matters worse, Gigi Hadid and Bella helped Selena Gomez when she was going through a dark time. The sisters are -- well, were -- good friends with the singer. I guess that's not the case anymore!
The source explained the root of the issue to TMZ. The insider said,
Giving Bella and Gigi a heads up would have been the respectful and honorable thing to do... but I guess that's just Hollywood.
It's not too surprising The Weeknd and Selena Gomez are hooking up when you look at all the ways they are connected.
Taylor Swift and Justin Bieber and Drake and Selena Gomez and The Weeknd and the Hadid sisters all have had beef with each other at some point.
It's just one huge celebrity web of drama and Selena Gomez and The Weeknd are right in the middle of it.
My good friend Eitan Levine explains the full breakdown in the video below for you to see what I mean.
In the end, I just feel bad for Bella. If I found out my ex was making out with Selena Gomez, I'd be pretty pissed as well.
The girl is hot, talented and makes great music. I'm also a walking piece of trash.
Hang in there, Bella. I'm here for you.
Citations: Bella Hadid Betrayed By Selena Gomez (TMZ)