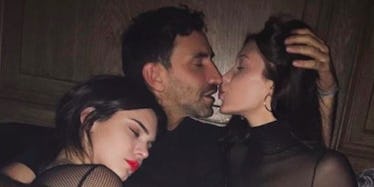 Bella Hadid DGAF About The Weeknd, Kisses Another Guy In See-Through Top
Instagram
What's the best way to get back at your ex? Post a hot pic on Instagram? Kiss another man? Pee on his car? Burn down his house and steal his dog?
Well, Bella Hadid did ONE of the above after her ex, The Weeknd, moved onto Selena Gomez.
As much as I wish Bella actually peed on The Weeknd's car, I'm sorry to tell you she just kissed another man.
BUT IT WASN'T JUST A KISS, OK?! It was steamy and passionate. The picture will make you feel things you wish you never felt. Just wait until you see it.
BFFs Kendall Jenner and Bella Hadid recently attended the Givenchy fashion show in Paris to model some sad, dark clothing.
Need an outfit for your next funeral? Kendall and Bella can hook you up!
After the event, the ladies hit the town! WOOOO, girls night! TEE HEE!
Bella Hadid showed off the goods wearing a see-through top with no bra.
On their night out, the girls hung out with Givenchy creative director Riccardo Tisci.
THE KISS IS COMING, YOU GUYS. I'M JUST BUILDING UP THE SUSPENSE.
Tisci posted a SEXY pic of him basically making out with Bella Hadid while Kendall Jenner took a nap on his shoulder.
The image above looks like the beginning of a threesome in a strange, gothic porno. Tisci captioned the photo,
A NIGHT OUT WITH MY SEXY BIRDS, HOT SANDWICH @kendalljenner @bellahadid@givenchyofficial #lemagnifique#aftershow
Yeah, calling it a "hot sandwich" definitely makes the whole thing seem creepier.
Even if the image makes me slightly uncomfortable, it's good to see Bella Hadid's lips practically touching another man's. She's going through a difficult time and needs to have fun!
GO CRAZY, BELLA. SHOW THE WEEKND WHAT HE'S MISSING.
On January 11, pictures of the "Starboy" singer kissing Selena Gomez went viral on social media.
The two reportedly started hooking up shortly after Bella and The Weeknd broke up, so things between Bella and Selena have been pretty awkward.
Well Bella, if you need a wingwoman, just hit me up. The last time I touched a man was six years ago, so I could use a little action, if ya know what I mean. HEH HEH HE HE.
Citations: Bella Hadid Kisses Riccardo Tisci (Perez Hilton)