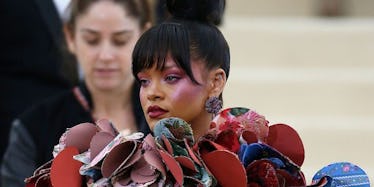 Rihanna's Met Gala Dress Is Really Unfair, According To The Internet
Getty Images
Rihanna officially stole the entire show at the Met Gala and everyone else can honestly go home... at least that's what Twitter thinks.
The pop star finally arrived at the Met Gala in a sleek topknot bun and a dress that totally looks like carefully arranged construction paper—and she's managed to look absolutely flawless.
Fans are going nuts, understandably.
I mean, everyone expected Rihanna to show up but no one could have fathomed the dangerous levels of #BlackGirlMagic she would be bringing with her to the carpet.
And the internet just cannot come up with a single reason why any of the other celebrities should even stay or return to the Met Gala since, well, the trophy has already been allocated.
Even though fans could not think of a single person who could possibly compare to her look, they could think of a few other things her dress reminded them of.
How about straight up art?
After all, the theme was about how fashion and art are actually synonymous.
She also reminds us of our childhood.
Oh, I remember those dolls, but I'd argue that Rihanna looks even better.
In fact, why hasn't Rihanna gotten her own Barbie doll in the footsteps of her iconic predecessors, Beyoncé and Brandy? That deserves attention ASAP because it's probably illegal.
There's no way Zendaya (though she's bomb) should have a doll and the little girls of the world still don't have a Rihanna doll to play with.
She's giving off major flower vibes.
I say she's a cluster of tulips. Rihanna "Tulip" Fenty.
Maybe an edible.
Yep, this is the sweetest Met Gala looks she's ever had.
Or a very (glamorous) lunch box?
Tuh. Hater!
She also looks like Frank Ocean's best diversion.
Ocean is on to something. Like, are you still in existence when Rihanna decides to walk into your space? I'm pretty sure people just fade away and the only thing left is Rihanna and her aura. Good cover, Frank.
So it's official. Rihanna looks like everything but fair competition to the rest of the Met Gala attendees.
It's a wrap—a papier mâché, construction paper, quilted kind of a wrap that looks like a complicated thing to slip into.
But a wrap, indeed.