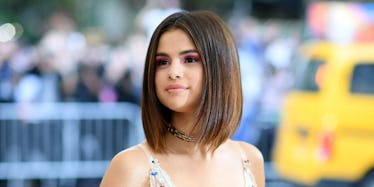 Selena Gomez "Bad Liar" Video Features Awesome LGBTQ+ Storyline
Getty Images
BRACE YOURSELVES, HOMIES.
Selena Gomez just dropped her "Bad Liar" music video. It's steamy and... very LGBTQ+ friendly.
In the video, Selena stars as a high school student who has a hopeless crush on a teacher.
Watch for yourselves and get all of those Pride month feels:
If you didn't get the chance to watch the video all the way, let me give you a brief, but detailed summary of the "Bad Liar" storyline.
In it, Selena is a lonely high schooler with a crush on her hot, blond female basketball coach, who Selena's dad (also played by Selena) a nerdy dude with a mustache and a cheap suit, seems to be flirting with.
Throughout the video, she's trying to hide her crush, but in the end (SPOILER ALERT!), her hopeless crush is revealed when she goes to bed holding a polaroid picture of the hot blonde coach (again, ALSO played by Selena) close to her chest.
Now, this is a pretty BFD. Putting an LGBTQ+ storyline in a mainstream pop video reminds LGBTQ+ youth and society as a whole that it's perfectly OK to have feelings and romantic urges that stray from our dominant heteronormative narrative.
In fact, "Bad Liar" shows it's more than just "OK" — it's actually cool.
This isn't the first time Selena has done something pretty monumental to show her support for the LGBTQ+ community.
Just a couple weeks ago, the pop star penned an inspiring open letter to the LGBTQ+ community in honor of pride month.
In the letter, Selena credits her mom's large group of LGBTQ+ friends for her open mindedness and inclusive attitude. She even said, "She also surprised me at my 16th birthday party with a performance by the most beautiful drag queen singing my favorite song."
Aside from the letter and the "Bad Liar" video, Selena also donated all the proceeds from a North Carolina concert last year to a local LGBTQ+ organization to help them fight against the controversial "bathroom bill."
Here's to hoping more inclusive videos like the "Bad Liar" video continue to show LGBTQ+ youth that their feelings — and their identities — are totally valid.