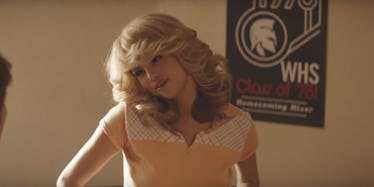 Fans Are Trying To Figure Out What Selena Gomez's "Bad Liar" Video Means
Youtube
Selena Gomez just upped the music video game with her newly released "Bad Liar" video.
In the '60s-set high school narrative, Selena plays all four major roles herself, as she portrays an intricate love triangle... err, I guess love square, actually?
Let's break down Selena's four different roles and start figuring out what's really going on in this fun and infectious new music video.
First, we see Selena as a normal high school student, who seems a bit preoccupied.
Student Selena spots an older man flirting it up with a blonde woman outside of her classroom, and she can't seem to take her eyes off them.
Yes, Selena plays both the man and the blonde woman in the video. Queen of wigs!
Student Selena spends her whole day stalking this little love affair, and it's not until she arrives home that we meet the fourth Selena, who plays Student Selena's mom.
And in a twist, we also learn the man Student Selena was watching flirt with the blonde gym teacher all day is actually her father.
So at this point, we probably assume Student Selena was watching the romance all day to keep tabs on her dad, but then another twist: Student Selena pulls out a photo of Blonde Selena and caresses it, letting us know she was actually stalking Blonde Selena all day.
Check out the full video below.
Of course, this quadruple-Selena Gomez lovefest exploded Twitter when the video was released. Fans lost it over Selena falling in love with herself, but like, who could blame her, right?
Fans also drew comparisons to other movies and shows that featured one actor in all the major roles, such as Orphan Black and even The Nutty Professor.
Whatever you want to compare it to, it's clear the "Bad Liar" video is going to go down as one of the most inventive and memorable music videos in Selena Gomez's career to date. Now if you'll excuse me, I'm going to go watch it one or twenty more times, bye!