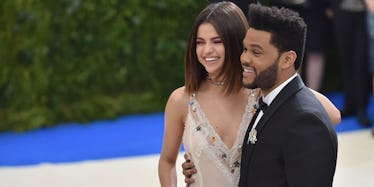 This Clue May Mean Selena Gomez And The Weeknd Are Collaborating On New Music
Getty Images
Rumor has it Selena Gomez and The Weeknd are collaborating on new music for Selena's upcoming album.
There isn't definite proof this is happening, so don't get too excited yet. Like I said, it's just rumors. But the internet does have some #receipts.
The rumors came about when fans happened upon producer, songwriter, and singer Max Martin's Wikipedia page. His discography showed Selena's upcoming song "In Her Element" as part of his recent work. Innocent enough, right?
The song also features Nicki Minaj, Julius Michaels, Justin Tranter, and Ryan Tedder as songwriters. Nicki Minaj! How cool!
But wait, there's more.
The discography listed The Weeknd as a featured artist on the track. FEATURED ARTIST. AS IN, HE'LL BE SINGING.
As all of our high school teachers hammered into our brains, Wikipedia is not a valid source. *twitches while having painful freshman year English flashbacks* So, this might have just been someone asshole making sh*t up.
The caption on the page has since been deleted, but screenshots never die. This is the since-deleted caption:
The caption reads "'In Her Element' (featuring The Weeknd)" then lists Selena Gomez, Julia Michaels, Justin Tranter, Ryan Tedder, and Nicki Minaj in the box next to it. It also says the title of her upcoming album is Bloom.
Max Martin has been in the business for a long time, having worked with artists like the Backstreet Boys, Céline Dion, Katy Perry, Britney Spears, Usher, and Taylor Swift.
Selena has been seen at a lot of The Weeknd's Starboy tour stops. You could take that as her just being a good girlfriend. But now, with this new info in the mix, it's totally possible that one of the reasons she's been to so many of his shows is because they're working on a single when he's not performing.
Gomez's latest single was "Bad Liar," which dropped last week. And it's pretty much about The Weeknd.
The lyrics go,
I was walking down the street the other day Trying to distract myself Then I see your face Ooh, you got someone else Tryna play it coy Tryna make it disappear But just like the battle of Troy There's nothing subtle here
This sounds like someone who's super into their new boyfriend, if you ask me.
Only time will tell if Selena Gomez and The Weeknd will collab on new music together, but in the meantime, I'm going to assume that the answer is yes. We're most likely going to hear The Weeknd crooning on "In Her Element."
Citations: Here's Why the Internet Thinks Selena Gomez and The Weeknd Are Working on New Music Together (E! News), Selena Gomez And The Weeknd Might Be Collaborating On New Music Together (Elle)