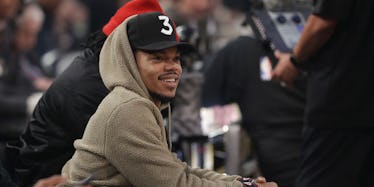 Who Is Chance The Rapper's Girlfriend? Kirsten Corley Is The Lady In His Life
Photo by Ronald Martinez/Getty Images
Chance The Rapper kind of can't stop slaying right now.
Recent Grammy-award winner for Best New Artist, and up for four BET Awards (Best Collaboration for "No Problem" with 2 Chainz and Lil Wayne, Best Male Hip-Hop Artist, Best New Artist, and Album of the Year for Coloring Book, respectively), Chance has a lot to smile about.
It's not surprising that the world is wondering, "Wait a minute? Who are you dating?"
Mother to his baby girl, Kensli, girlfriend Kirsten Corley keeps a crazy low profile. Trust me, I know. I've been trying to stalk her all day... I mean, not in a creepy way or anything, but for this article... you guys get it...
ANYWAY! Here is what I found: There is a Kirsten Corley on Instagram, but it is not confirmed if she is the woman of Chance's heart.
We also know that in 2015, she gave birth to daughter Kensli, who is featured all over Chance The Rapper's Instagram.
Chance shouts out Corley fairly regularly on his social media accounts. He recently posted a photo of his daughter with the caption:
Nothing I'm doing currently would be possible without this girl right here. She's so kind and loving and brilliant and beautiful. And I wouldn't have her without her mother, so thank you for creating and raising the greatest gift I've ever received. Cannot wait to get back to this.
He also posted the following video back in 2016, featuring himself rapping about his love for Corley. Fans swooned and strained their eyes to catch a glimpse of her at the very end.
I don't know. Seems like true rapper love to me.
Of course, there is always the chance Kirsten Corley might make an appearance on the red carpet at the upcoming BET Awards, but we wouldn't count on it.
For now, we'll keep our eyes on Chance's photos and ears on his lyrics for any other tid-bits about the lucky lady, and you can catch him at the show on Sunday, June 25, at 8 p.m. ET on BET.