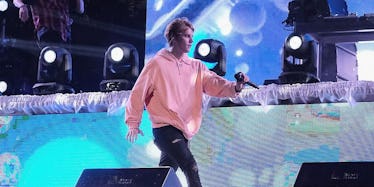 When Is Justin Bieber's Next Album Coming? Here's What We Know
Getty Images
I've been on a Justin Bieber bender and IT. FEELS. AWESOME.
Hate to love or love to hate him, The Biebs can't help but bring us a chiseled jaw line, dance moves for days, and hit after baby-boy-face, saggy-crotch-pant hit.
So, when is he going to give us his next album already?!
In 2016, Beliebers lost their minds when Justin began releasing 15-second teasers of new music on his Instagram, but boy-oh-boy does that feel like a long time ago.
Fans are looking for any signs of new album life coming from Justin, including this picture of him on a beach with his guitar, as reported in Teen Vogue.
The picture from 2016 was captioned, "Best environment to write music other than right after a heartbreak," which the world took as code for, "HEADS UP! NEW ALBUM COMING YOUR WAY!"
Guys, he is a literal singer/songwriter and a guitar might just be part of the package.
Regardless, it's now been more than a year since that post and still no new album.
Justin's latest album, Purpose, was released in November 2015, bringing the nearly two-year gap (so far) increasingly close to the longest he's gone since releasing something new.
Others speculate that the seemingly lack of gossip, drama, or news coming from the Justin camp hints that he's been behaving himself and focusing on his music.
Plus, he's been on his Purpose tour, which kicked off in March 2016 and is wrapping up this September.
That kind of schedule is no freaking joke.
Announcing the tour officially on November 11, 2015, on Ellen (which for those of you doing the math at home, is a long-*ss time ago), Justin has been traveling the world since, possibly leaving little room to get down to business with new music.
Either way, the world is always ready and waiting, Justin. Just, like, keep us posted... k?