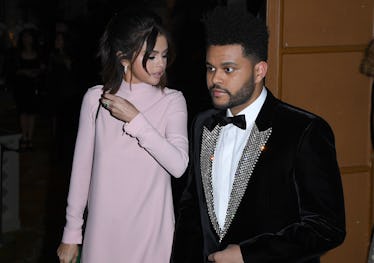 Selena Gomez & The Weeknd Reportedly Broke Up, So Love Is Officially Dead
ANGELA WEISS/AFP/Getty Images
Terrible news for anyone who believes in love. Selena Gomez and The Weeknd have reportedly broken up. Reports claim the famous duo has thrown in the towel after 10 glorious months of being the most beautiful couple in all of music. Why did Selena Gomez and The Weeknd break up? Oh, I don't know. Probably because nothing is real and we're all going to die alone on this godforsaken rock floating through outer space we call Earth.
Elite Daily has reached out to both Selena Gomez' and The Weeknd's teams for comment, but did not hear back in time of publication.
People reports that multiple sources have come forward claiming the couple has ended their relationship, despite the millions of supporters and cheerleaders they've gathered as a duo. One insider claims it was the attention and travel both of their independent careers demanded that caused the drama. They said,
She [Selena] and Abel have been going back and forth for a few months about their relationship. It's been hard with him being on tour and her shooting in New York. That wasn't easy on them.
Yes, but did they stop to consider what this news would do to us?
Selfish.
I'm kidding...
...kind of.
According to one of the sources, Gomez' absence at The Weeknd's concerts had something to do with their growing distance. The insider claimed that she "made an effort," but, "It's over for now, but they're still in touch."
Oof. That one stings.
To make matters worse, apparently, the two have been on the rocks for some time. One insider, who claims the breakup has nothing to do with Justin Bieber, told the magazine,
It's been hard for them to come to the realization that this is the direction things were heading, but it's been hard for months.
It's specific that the source mentioned Bieber, because apparently Gomez was just spotted out and about with him getting breakfast and hanging out at her home.
Wait a minute. Record scratch. What the actual... ???
I know, it's alarming and unsettling and honestly I can only deal with one major thing at a time... so please, can we just stay focused?
After all the tumultuousness Gomez and Bieber suffered as a couple, you'd think a happy romance with The Weeknd would stick for the "Bad Liar" singer.
To be fair, Gomez had a truly testing summer, undergoing kidney transplant surgery and quietly battling with her lupus disease. It would be understandable if the sheer struggle of life, let alone the pressures of the celebrity limelight, became too heavy for her and The Weeknd to shoulder as a couple.
Still, it hurts so bad when it seemed like things were so good.
The two seemed so happy when they took their relationship public, a decision Gomez herself explained was to ease some of the pressures of keeping things secret.
She told Ryan Seacrest on On Air With Ryan Seacrest,
I'm just genuinely myself. It's really hard when I would want to spend so much time hiding things. It's too much pressure, and I think that everyone gets over everything eventually… that's what I've learned.
... I just want to be happy. If that's me just being myself, then I don't really care.
She added that at the time, her music and professional life were all going so well. Why waste the energy worrying about what people think when it comes to her romantic life?
Well... probably because when something like this happens, the world freaks out, but we appreciate her open honesty anyway.
Gomez and Abel have yet to comment, and we weirdly are keeping one eye on Justin Bieber's social media feeds too.
Selena, The Weeknd, Biebs... if you have any updates, just let us know, k?